Page 118 - Catalog 46 | 2020
P. 118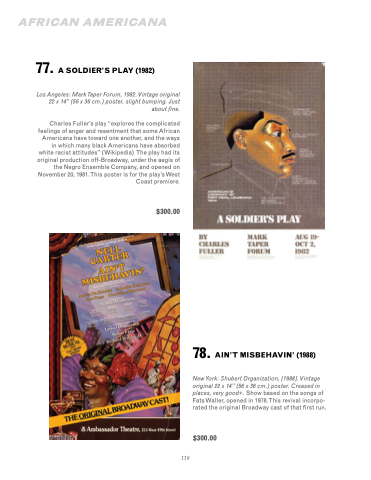 AFRICAN AMERICANA
77. A SOLDIER'S PLAY (1982)
Los Angeles: Mark Taper Forum, 1982. Vintage original 22 x 14" (56 x 36 cm.) poster, slight bumping. Just about fine.
Charles Fuller's play "explores the complicated feelings of anger and resentment that some African Americans have toward one another, and the ways in which many black Americans have absorbed white racist attitudes" (Wikipedia) The play had its original production off-Broadway, under the aegis of the Negro Ensemble Company, and opened on November 20, 1981.This poster is for the play'sWest Coast premiere.
$300.00
$300.00
  116
78. AIN'T MISBEHAVIN' (1988)
New York: Shubert Organization, [1988]. Vintage original 22 x 14" (56 x 36 cm.) poster. Creased in places, very good+. Show based on the songs of FatsWaller, opened in 1978.This revival incorpo- rated the original Broadway cast of that first run.