Top Art Curators For Vintage Posters & Movie Memorabilia
WalterFilm takes great pleasure and pride in helping our clients discover the beauty and magic that exists in the extraordinary world of Motion Picture art and memorabilia, regardless of whether they are purchasing a single object or developing a fabulous collection.
Curatorial Program
The curatorial process WalterFilm goes through in evaluating a piece consists of Authentication and Evaluation and we provide our clients with a detailed description of every piece we sell.
Authentication

Establishes a piece as a vintage original and not a reproduction, the date it was issued and any additional provenance it might possess.
Consider: Universal Studios' horror classic DRACULA. It was first released in 1931. There was a second release in 1938, and another in 1948. Then a company called Realart bought the rights to the film and in 1951 did yet another release. And, in the 1960's, there were were additional releases, again from Universal. Ephemera from any of these multiple releases is vintage and original—but, clearly, different degrees of collectible interest and markedly different prices attach to the each of these releases. We take pains to make sure that all our inventory is vintage original and we have correctly identified the date and issue history of each piece.
Evaluation

Involves our giving an accurate evaluation of the condition of the diverse materials we offer so that a prospective buyer has a very clear and accurate understanding of the condition of their potential purchase.
Consider: Was a poster slightly trimmed? Was there some restoration done to a lobby card? Are there creases to a photo?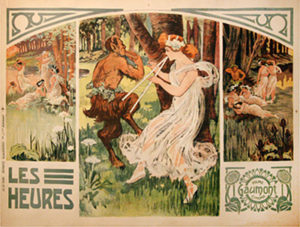 All movie materials, including film scripts and photographs, are ephemeral by nature. They were never intended to be saved, and a knowledgeable client understands this. However, if an original Art Nouveau movie poster from the 1909 French film, LES HEURES, (pictured here) is in fundamentally decent condition but with various signs of handling, should a collector wait for a better offering, or is the piece so rare that such a wait might prove futile? This is one of the many kinds of questions that we regularly deal with as we work with clients.
Developing A Collection
We work closely to advise clients, who are vintage movie poster and movie memorabilia collectors, in developing their collections. No one has infinite funds and decisions always have to be made as to priorities in making purchases. We try and understand our client's goals and to then do all we can to turn these goals into a reality. Whether a collector is looking to furnish a home or office, to build a collection on a specialized subject or to put funds into pieces that offer potential investment—we work to realize whatever our clients are looking to accomplish.
In addition to private collectors, we assist curators at various libraries, museums, universities, and auction houses.