Photo Stills
The visual history of motion pictures is contained in movie still photography. Every aspect of the movie making process was featured in this medium and there are a variety of genres, each special in its own right and each highly collectible.
Preproduction on movies included photography of rehearsals, of sets being built, of costumes being made. Such photos created a visual history of what went into making a movie. Photo stills were also used to test costumes, hair, make-up and to capture an image of a set once it was finished and decorated.
Scene Stills
The most popular and collectible genre is referred to as "scene stills." This name came about because part of the production process was to record all scenes filmed in order to have a photo narrative of the screenplay. Production reports tell us that once the last take was completed the cast and crew spent several minutes recreating the scene for "stills."
In addition, as a film was being shot, photographers would snap images of the process to show directors and production staff hard at work.
Publicity Photographs
Publicity photographs had actors, in a photo studio setting, posing for images that could be used for designing ad art and for promoting the film. This genre also included actors being photographed both as themselves and in character to promote clothing lines as well as an amazing variety of merchandise.
Movie Star Photos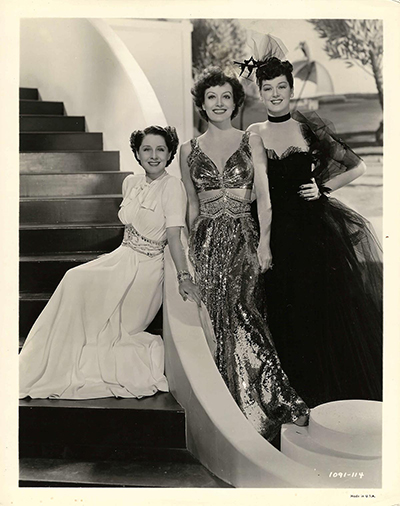 Hollywood's photography studios, often on the studio lots, were busy with portraiture, glamour and pin-up-style photography of the stars. Here is where some of the most famous photographers of the day worked. Highly collectible is the work of George Hurrell, Clarence Bull, Ruth Harriet Louise, Cecil Beaton, Floyd McCarty, Eugene Richee and many others.
Many collectors prize film star photos, the purpose of which might be capture a movie star's role or to simply promote that star. The stars were rarely left alone and a photographer was often available to capture them at home, so their social lives were always the subject of the still camera.
Movie Photo Formats
While vintage movie photo sizes may vary, most of the photography we offer are in sizes 8″ x 10″, 10″ x 13″ and 11″ x 14″. Most photography from the golden age of the movies are single weight or double weight paper, glossy or matte finish nitrate silver prints and printed from negatives the size of the print. Most are coded with studio and production information and many bear the ink stamps of the studio, the photographer and date issue on their verso.
A Collectible Form of Art
Created to feed the studio publicity machine, photo stills and movie star photos have become the visual record of the history of motion pictures and the era of the great Hollywood studios. As a result of the increasing interest in its history and the people who made the movies, the images that captured that magic have become recognized as an art form in itself and are becoming highly collectible.