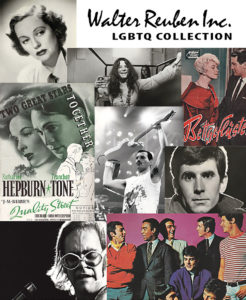 WalterFilm.com has been a resource for those collecting LGBTQ related material long before the LGBTQ designation came into use. LGBTQ stands for a culture shared by Lesbian, Gay, Bisexual Transgender, Questioning and Queer individuals. This term has only come into common usage recently and was brought about as a result of the Stonewall Riot in June of 1969, which, along with the AIDS epidemic that followed, came to be known as the Gay Pride Revolution. As a result, there has been a growing interest in LGBTQ social history as is detailed in the Queer History Social Media Project of the Society of American Archivists.
The queer history social media project is an initiative aimed at bringing the skills and insights of professional archivists, librarians, historians, and other social scientists involved in the study of LGBTQ history to bear in the improvement and enrichment of articles on topics, individuals, and organizations related to THE LGBTQ experience throughout history.
LGBTQ Cultural History and Memorabilia
In 2011 – forty-two years after Stonewall – Walter Reuben Inc., the parent of WalterFilm.com, made its first sale to a major institutional library of relevant items of LGBTQ cultural history. Those items include: vintage original star photographs, film and theater posters, lobby cards, film and play scripts, newspaper articles, rare books and advertising or marketing collectibles and LGBTQ memorabilia.
The sales continued to be made to an ever-growing number of institutions and individuals and, as a result, Walter Reuben Inc. has grown to become a major resource for LGBTQ Cultural History and Memorabilia.
THE LGBTQ COLLECTION
An example of the range of LGBTQ material that is provided by Walter Reuben Inc., through its catalogs, and WalterFilm.com, on its website, can be found in the summaries of our 2018 and 2019 catalogs:
CATALOG 42|2018
A substantial archive on LGBTQ film, stage, and music history, with 42 vintage scripts, 1200+ photos, and 45 pressbooks, promotional books, and other ephemeral promotional items, making for overall more than 1300 pieces.
The collection contains sections on many significant writers, directors, and actors, including: Carson McCullers, Rock Hudson, Zoe Akins, Pedro Almodovar, Judith Anderson, John Van Druten, Lynn Fontaine, Todd Haines, Janis Joplin, Freddy Mercury, Harper Lee, Charles Laughton, Lily Tomlin, and Gus Van Sant.
Numerous individual films and plays with LGBTQ subject matter are also included, among them the theater script for THE ROCKY HORROR SHOW, KISS OF THE SPIDER WOMAN, THE FOX, and LAST EXIT TO BROOKLYN.