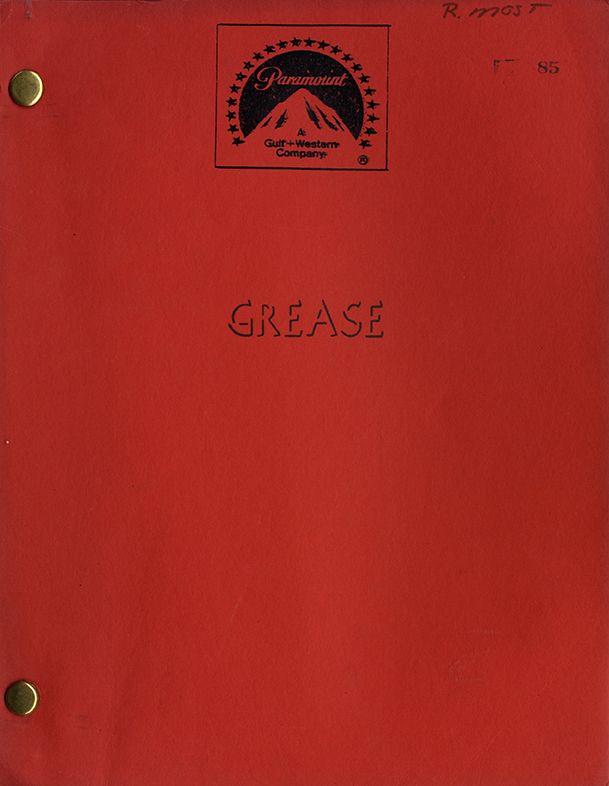 GREASE Screenplay by Bronte Woodard Screen Story by Bronte Woodard and Allan Carr Adapted from the Broadway musical…A ROBERT STIGWOOD/ALLAN CARR PRODUCTION FOURTH DRAFT June 9, 1977
$

850.00
Red printed studio wrappers, brad bound, mimeograph, 110 pp.
Vintage original script for one of the classic musical films of the 1970's, directed by Randall Kleiser, starring John Travolta and Olivia Newton-John. The film was filmed in various southern California locations. It takes place in an unidentified area near a beach in the late 1950's. All of the iconic Los Angeles locations used cause the viewer to assume this is set in California, although that is never clearly stated in the dialogue.
This film was a major triumph for gay impresario Allan Carr, who served both as writer and producer on this film. Carr was a major figure in entertaiinment history. He achieved great success as a talent agent and as a stage and film producer, with the Broadway production of LA CAGE AUX FOLLES and with the film of GREASE. He also became a subject of ridicule for his production of the extremely campy 1989 Oscar award ceremony.
Share With Friends: