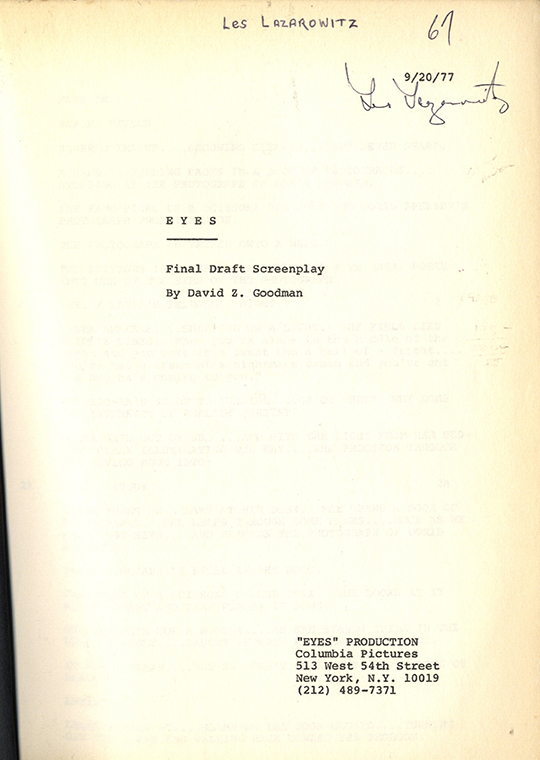 EYES OF LAURA MARS, THE (under its provisional title EYES) (ca. 1977) Film script
Sold
THE EYES OF LAURA MARS [under its provisional title EYES} (ca 1977) Vintage original film script.
FINAL DRAFT SCREENPLAY New York: Eyes Production / Columbia Pictures,]. [1],109 leaves. Quarto. Mechanically reproduced typescript, printed on rectos only. Boltbound in hot-stamped Studio Duplicating Service binder. Ink name (twice – see below), binder a bit rubbed and soiled, with label residue on spine, internally very good to fine.
A final draft of David Z. Goodman's draft of this screenplay, based on a story by John Carpenter (who received final co-credit for the screenplay). Irvin Kershner directed the August 1978 release, starring Faye Dunaway, Tommy Lee Jones, Brad Dourif, Raul Julia, et al. This film is a Manhattan-based thriller set in the world of high fashion, and it was a very popular film when released. It, unnervingly, juxtaposes the high gloss of fashion photography with a series of very gruesome crime scenes.
This copy bears the ownership signature and address label of sound mixer for the production, Les Lazarowitz, as well as his name in block print (perhaps attending distribution of copies of the script).
Out of stock
Share With Friends: