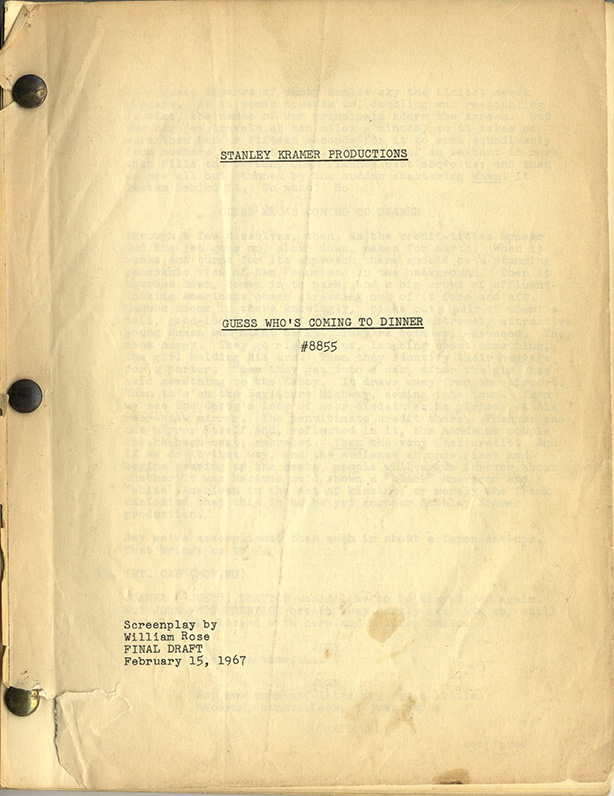 GUESS WHO'S COMING TO DINNER Screenplay by William Rose FINAL DRAFT February 15, 1967 (with revisions on blue and yellow paper dated up through March 13, 1967)
Sold
Vintage original script, printed wrappers, brad-bound, studio mimeograph, 111 pp.
Sidney Poitier, Katharine Hepburn, and Spencer Tracy were directed by Stanley Kramer in this film, which is in some ways very tame, but which was groundbreaking when made. There is a clear, and interesting, disconnect between the innate racism which the couple played by Tracy and Hepburn must overcome—and all the sights and sounds of this famously open-minded city.
Hollywood had never been interested in making a major studio film about an interracial romance and marriage until this one—set in a basically liberal milieu of upper class San Francisco society. Poitier was then at the apex of his stardom. This copy belonged to a man named Bob Ellsworth, who worked in the costume department of various films, often uncredited, and he most likely had that role on this film.
There is some creasing and very light staining to inner margin of outer front wrapper, there is a tiny chip at blank top of final page; there are a few penciled notes on one page, and title written in ink on outer spine, overall near fine in vg+ wrappers.
Out of stock
Share With Friends: