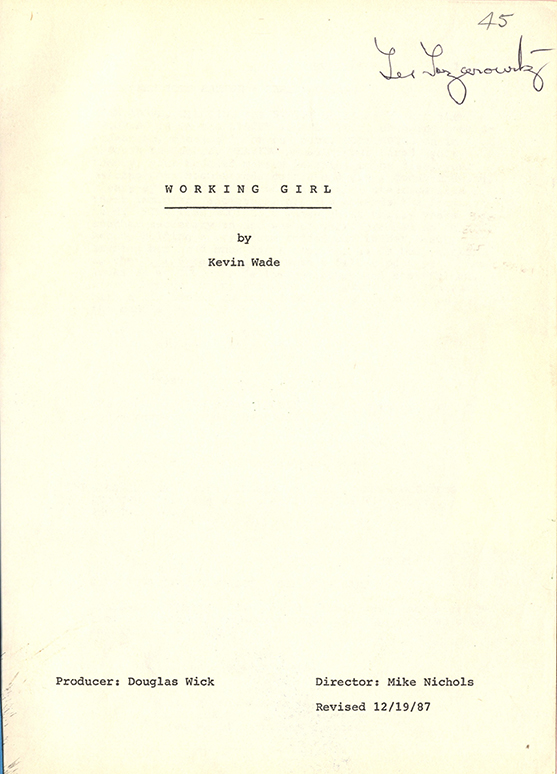 WORKING GIRL (1987) Vintage original film script
Sold
[New York: 20th Century-Fox], 19 December 1987 through 22 February 1988. [1],126,[1] leaves plus lettered inserts. Quarto. Photomechanically reproduced typescript (by Studio Duplicating Service), printed on rectos only of white, blue, pink and canary stocks. Bradbound in plain wrapper. Ink name (see below). Some light spotting along spine edge of upper wrapper, some light ink spattering to lower edge, but a very good copy.
Copy #45 of a "revised draft" of this original screenplay, exhibiting further very extensive revision via dated color revises through the span above comprising the majority of the text. The December 1988 release was directed by Mike Nichols, and starred Harrison Ford, Sigourney Weaver, Melanie Griffith, Alec Baldwin, Kevin Spacey, et al. This copy bears the ownership of Les Lazarowitz, who worked as the production sound mixer. Wade's script was nominated for both a Golden Globe and a WGA award for Best Original Screenplay in its year.
This was one of director Nichols' great commercial and critical successes. It was released the same year as Oliver Stone's WALL STREET. Both of these very different films effectively form bookends reflecting on the glories and the disastrous excesses of the go-go Reagan era of deregulation, hostile takeovers, and, of course, the mantra, "greed is good." Stone's film was markedly created to critique that ethos, whereas this film effectively serves as a paean to that time.
Out of stock
Share With Friends: