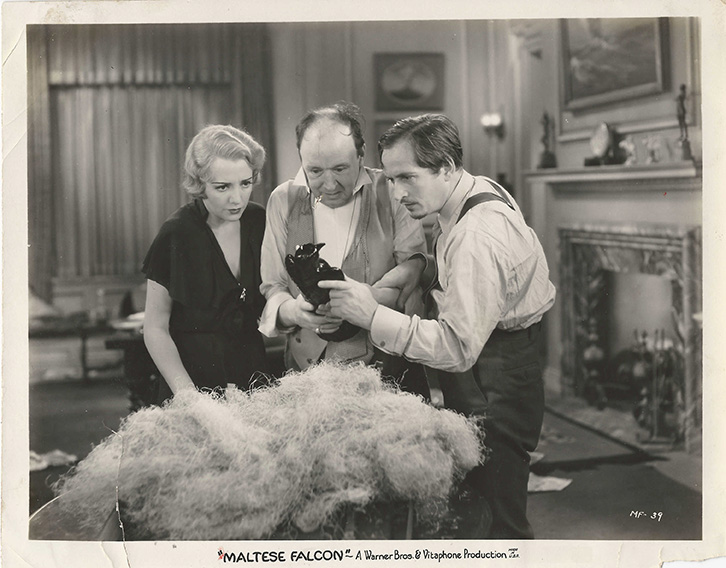 MALTESE FALCON, THE (1931) Climactic moment
Sold
Vintage original 8 x 10" (20 x 25 cm.) single weight silver gelatin print still photo, USA. Bebe Daniels, Ricardo Cortez, Dudley Digges, Una Merkel, Thelma Todd, Walter Long, Dwight Frye, dir: Roy Del Ruth; Warner Brothers. The superb, original, no holds barred, Pre-Code version of Dashiell Hammett's notorious mystery suspense crime novel. The 1941 post-Code John Huston remake is a superb classic with the true nature of the characters shrouded in dark psychology, but in this version, it is all out in the open. The characters are amoral and they make no apology.
Bebe Daniels plays the dangerous dame Ruth Wonderly and she plays the sexuality blatantly, as well as nearly in the nude several times. Ricardo Cortez plays Sam Spade as a sexually-charged womanizer. The story and cast of characters was the same as the 1941 telling, which surrounded the tracking down of the elusive, valuable and mysterious statue, the Maltese Falcon.
The photo is fairly used with chipping and tear to the bottom right corner, and two tears (one of which is a good 1" (2.5 cm.) at bottom left side. There are remnants of brown advertising tape on the verso. Image is fine. VERY GOOD.
Out of stock
Share With Friends: