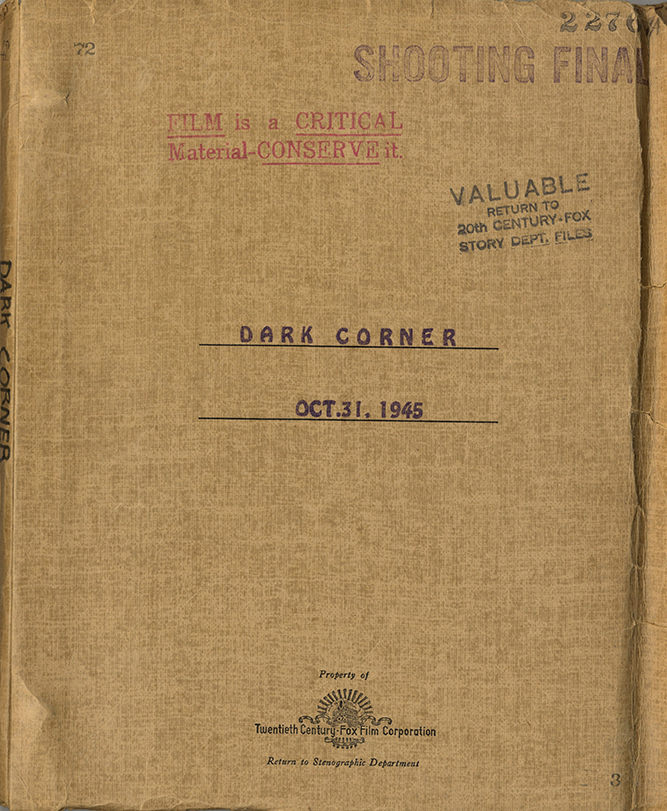 DARK CORNER (Oct 31, 1945) Shooting Final by Jay Dratler
Sold
Based on a story serialized in "Good Housekeeping" (1945) by Leo Rosten, about private investigator Bradford Galt (Mark Stevens) who believes he's being followed by a man in a white suit (Wiliam Bendix). The man in the white suit tells Brad that the person who hired him is an old business partner of Brad's, from San Francisco, who has relocated to New York City. The old business partner now works for Hardy Cathcart (Clifton Webb), a wealthy art aficionado. Brad believes he is targeted for murder, but as he tries to avoid being killed he becomes implicated in an actual murder. Through it all, Kathleen Stewart (Lucille Ball), Brad's secretary, is by his side, the two sharing an attraction to each other.
Between the date of this "final" shooting script (October 31, 1945) and the date of the film's release (May 8, 1946), the title was changed from DARK CORNER to THE DARK CORNER. Though the script is credited to a single writer, Jay Dratler (who also worked on the screenplay of 1944's LAURA, and who wrote the novel on which the film noir PITFALL was based), the film's onscreen credits read, "Screenplay by Bernard C. Schoenfeld and Jay Dratler. Based on a story in Good Housekeeping by Leo Rosten." Insofar as Dratler's script is virtually identical to the completed film, one can only assume that Bernard C. Schoenfeld was the author of an earlier draft.
The released movie is partly a film noir thriller (good guy framed for a murder he didn't commit) and partly a vehicle for its star, Lucille Ball. The movie also features Clifton Webb as a villainous art gallery owner, a bit of casting designed to remind the audience of LAURA which was a big hit for 20th Century Fox, the studio that released both films. For Fox's contract director, Henry Hathaway, this project fell between two more serious-minded documentary-style film noirs, THE HOUSE ON 92ND STREET (1945) and 13 RUE MADELEINE (1947).
Ms. Ball plays the secretary/receptionist of Private Eye, Bradford Galt (Mark Stevens). In Dratler's screenplay she is described as follows:
"She looks like an angel, but she also looks as if she's lost considerable altitude. She's about twenty-five, sultry, and capable, and she's learned how to handle herself – and anybody who wants to handle her."
Clifton Webb's evil character, Hardy Cathcart, is introduced in a similar style (it is very difficult to watch his performance without noticing that he is doing his character as a suave, almost certainly gay, villain.)
"He is about fifty-five, an utterly civilized, hyper-bred man who might drink not only vintage wine, but vintage water as well."
:
Speaking of which, the screenplay is filled with "vintage" film noir dialogue:
"I'm playing this by the book, and I won't even trip over a comma."
"Start crooning, or I'll work you over till your hair curls."
"I never confuse business with sentiment – unless it's extremely profitable, of course."
"The enjoyment of art is the only remaining ecstasy that is neither immoral nor illegal."
"I've got a feeling I'm living right behind an eight ball – something's coming, and when it hits, you're going to end up in the corner pocket."
Dratler's script reads like a good pulp novel. Almost all of its characters are established film noir archetypes – the hardboiled private detective, the wise-cracking dame with a heart of gold, the police lieutenant who keeps an eye on the hero, the cultured villain, the villain's "friend" a suave seducer of rich men's wives, the villain's hired muscle. The script's subtext, what there is of it, has mainly to do with class – working class folks (other than hired thugs) are fundamentally okay; the rich and educated are decadent and not to be trusted.
Tan titled wrappers, noted as SHOOTING FINAL on the front wrapper, rubber-stamped copy No. 3, dated Oct. 31, 1945. Distribution page present, with receipt removed. Title page present, dated October 31, 1945, noted as Shooting Final, with a credit for screenwriter Dratler. 150 leaves, with last leaf of text a revision page numbered 10. Mimeograph, with blue revision pages throughout, dated variously between 11/29/45 and 1/23/46. Pages and wrapper Very Good plus, bound internally with two gold brads.
Grant, p. 160. Hardy, The BFI Companion to Crime, p. 99. Selby Canon, pp. 38-39. Silver, pp. 87-88. Spicer, p. 408.
Out of stock
Share With Friends: