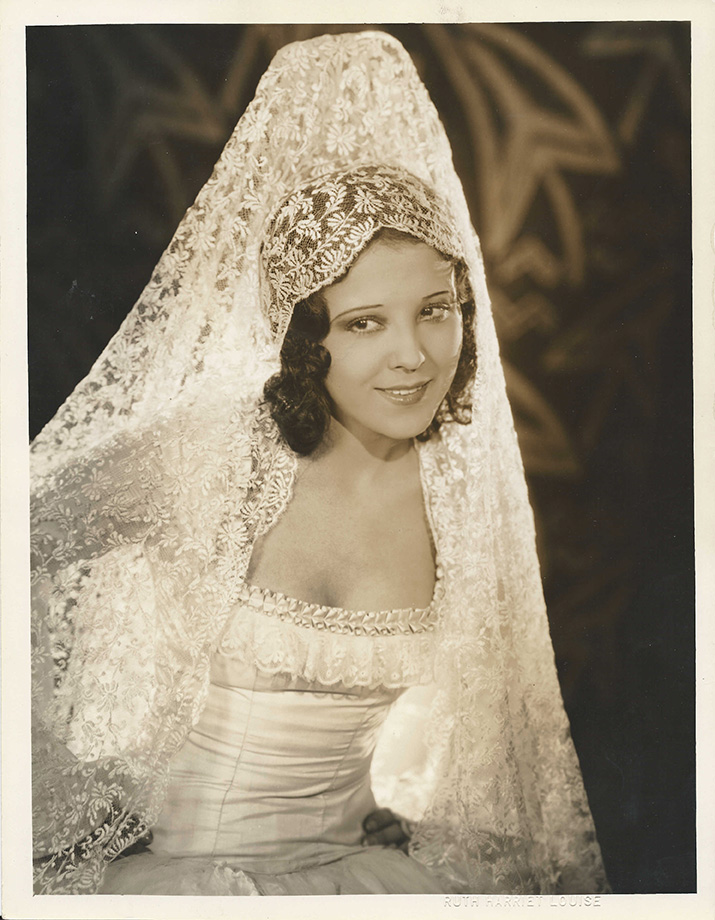 RAQUEL TORRES (1928) by Ruth Harriet Louise
Sold
Vintage original 10 x 13″ (25 x 32 cm.) black-and-white double weight glossy silver gelatin print still photo, USA. Memorable for her run-in with the Marx Brothers in 1933's DUCK SOUP, Raquel Torres had a Hollywood film career for 5 years which encompassed the very end of the silent era and early talkies, between 1928-33.
Born in Mexico, Raquel had the distinction of appearing in MGM's first synchronized sound film, WHITE SHADOWS OF THE SOUTH SEAS. She soon appeared in the Academy Award-winning first version of THE BRIDGE OF SAN LUIS REY and continued in a variety of genres, including Westerns, South Sea sex epics, comedies and, of course, DUCK SOUP. When she married a business tycoon in 1935 she stopped making films and, after he passed, she married actor Jon Hall for a while. She remained in Los Angeles till her death at 78 in 1987.
While at MGM in 1928 she had her portrait done by MGM's most prestigious photographer, Ruth Harriet Louise. Raquel is likely in costume for THE BRIDGE OF SAN LUIS REY. There is a blind stamp at the bottom right edge as well as a "Ruth Harriet Louise" ink stamp on the verso and the "Raquel Torres Metro Goldwyn Mayer" ink stamp as well. There are two light inter creases: one at the center of her chest and a diagonal one at the center of her face. Neither show unless held up to the light. NEAR FINE.
Out of stock
Share With Friends: