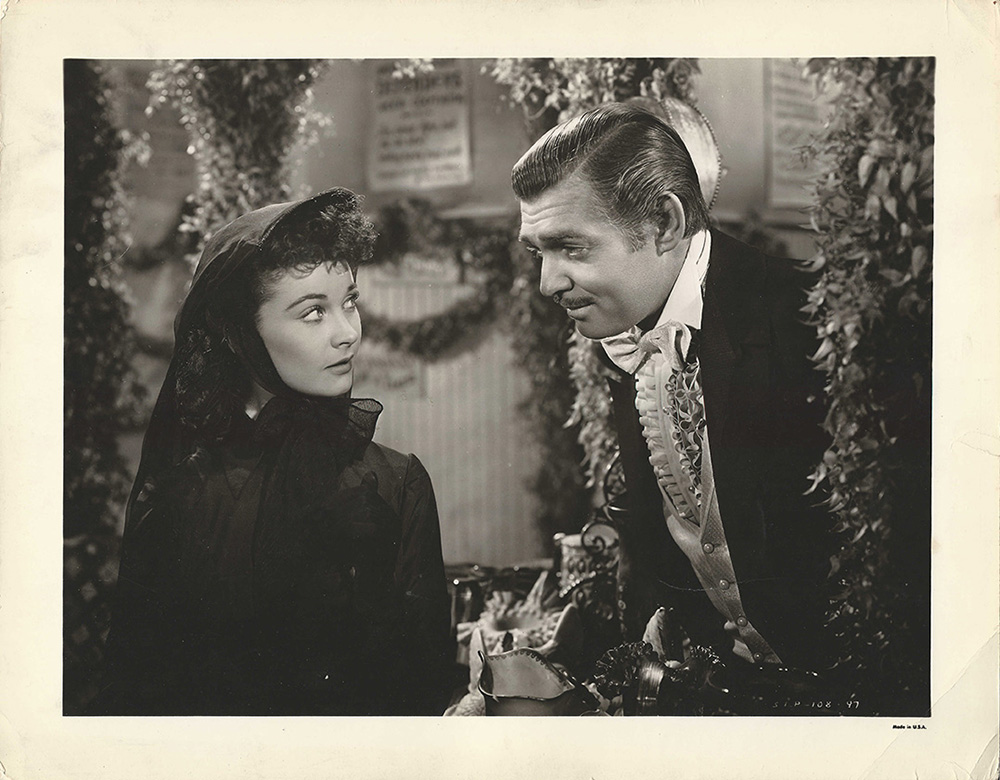 GONE WITH THE WIND 8 VIVIEN LEIGH AS SCARLETT O'HARA AND CLARK GABLE AS RHETT BUTLER AT THE ATLANTA BAZAAR
Sold
Vintage original 12 x 15" (30 x 37.5 cm.) black and white double weight glossy silver gelatin print still photo, USA. Vivien Leigh, Clark Gable, Olivia de Havilland, Leslie Howard, Hattie McDaniel, dir: Victor Fleming; Selznick International Pictures/Metro-Goldwyn-Mayer. The epic American Civil War melodrama which has captured the hearts and imaginations of fans for generations— the story or a strong willed young woman who perseveres and succeeds— she and the characters in this story still inspire. Made during Hollywood's Golden Year, it won most of the major Academy Awards and to this day many feel well deserved, particularly those for Vivien Leigh for Best Actress and the unprecedented Best Supporting Actress to Hattie McDaniel.
Seldom do oversized exhibition quality prints of this type, including their original attached typed blurbs on the verso come to the collectors market. They are unsurpassed in quality.
SIP 108-97 Depicts Scarlett O'Hara and Rhett Butler's meeting at the Atlanta bazaar dance. Minor blank white margin creasing and light soil in areas. ABOUT FINE.
Out of stock
Share With Friends: