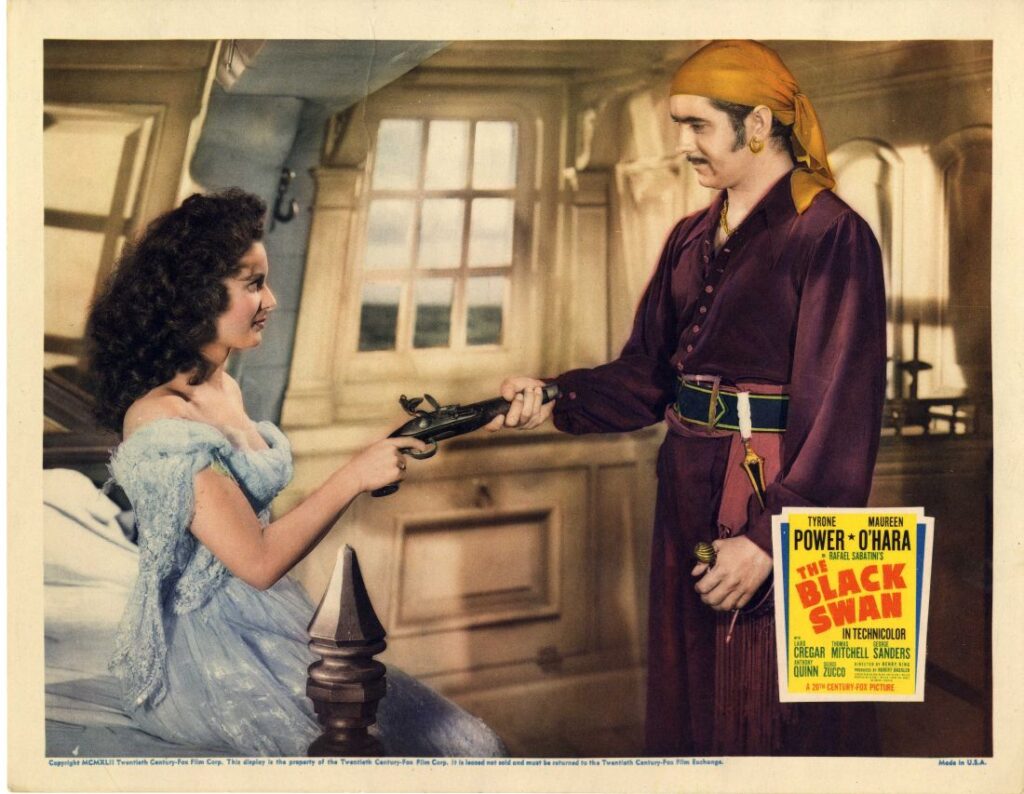 BLACK SWAN, THE (1942) Lobby card
$

300.00
Vintage original 11 x 14″ (28 x 35 cm.) lobby card, USA. Tyrone Power, Maureen O'Hara, Laird Cregar, Thomas Mitchell, George Sanders, Anthony Quinn, dir: Henry King; Twentieth Century Fox. Fine.
None other than Ben Hecht and Seton I. Miller wrote the screenplay which brought Rafael Sabatino's swashbuckling pirate tale to the Technicolor screen. For the most part, though, the writers used the title and wrote an original story.
Set in Jamaica, there was second unit footage from that country, Mexico, Cuba, Honduras and Florida, but most of the filming took place on Stage 6 of the Twentieth Century Fox lot. The movie ran afoul with the Breen office when they saw that the main characters played by Power and O'Hara commit suicide at the end; a new ending had to be filmed. With the eye-popping Technicolor which set Fox apart during this time, score by Alfred Newman and beautiful stars, this was one of the finest of the romantic swashbucklers.
In this card are Maureen O'Hara as the kidnapped-yet-feisty Lady Margaret Denby, and her captor Jaime Waring as played by Tyrone Power.
Share With Friends: