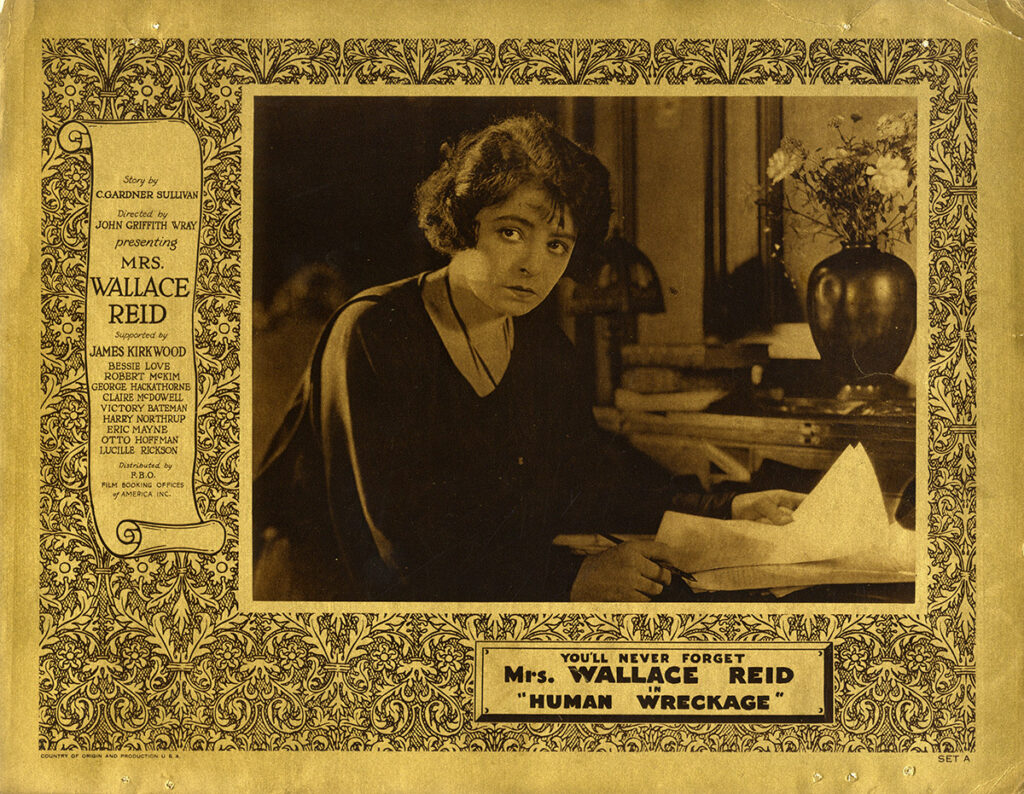 HUMAN WRECKAGE (1923) Set of 8 lobby cards
Sold
[Hollywood: FBO, 1923] Set of eight (8) vintage original 11 x 14″ (28 x 36 cm.) lobby cards printed on gold-foil paper, cards have marginal pinholes and some have scattered scuffing, VERY GOOD.
Human Wreckage is a lost film. A trade publication at the time wrote:
"Treats the evils of drugs, pointing out the disasters which visit several figures in general and the MacFarlands in particular. The husband is an attorney who suffers a nervous breakdown. Becomes addicted to morphine and his efforts to shake off the habit are fruitless until he realizes that his wife is encouraged to take up the habit because of his weakness and the futility of trying to cope with it."
Wallace Reid was a very popular silent film actor. After suffering a debilitating injury on a film set, he was prescribed morphine, at a time when little was understood about the drug's addictiveness. He died in a valiant effort to get clean. His wife, whose stage name was Dorothy Davenport, effectively produced and starred in this movie.
On 12 May 1923, Motion Picture News reported that Mrs. Reid traveled to Washington, DC, earlier that month to confer with President Warren G. Harding and attend the National Anti-Narcotic Conference. FBO dispatched representatives to the annual convention of the United Federation of Women's Clubs of America in Atlanta, GA, to promote the release. With the assistance of the Los Angeles Anti-Narcotics League, Mrs. Reid received endorsements from politicians, judges, government agencies, the financial community, and society leaders.
The League opened chapters across the country and made efforts to recruit various community, religious, and artists associations to their cause. William J. Burns of the Bureau of Investigation (BOI) was quoted in the 19 May 1923 Motion Picture News, describing the film as 'the greatest broadaxe which could be wielded on the fight against narcotics.'"
This film, which had a huge impact at the time, can be seen as one of the earliest efforts in popular culture to create awareness of issues of addiction.
Out of stock
Share With Friends: