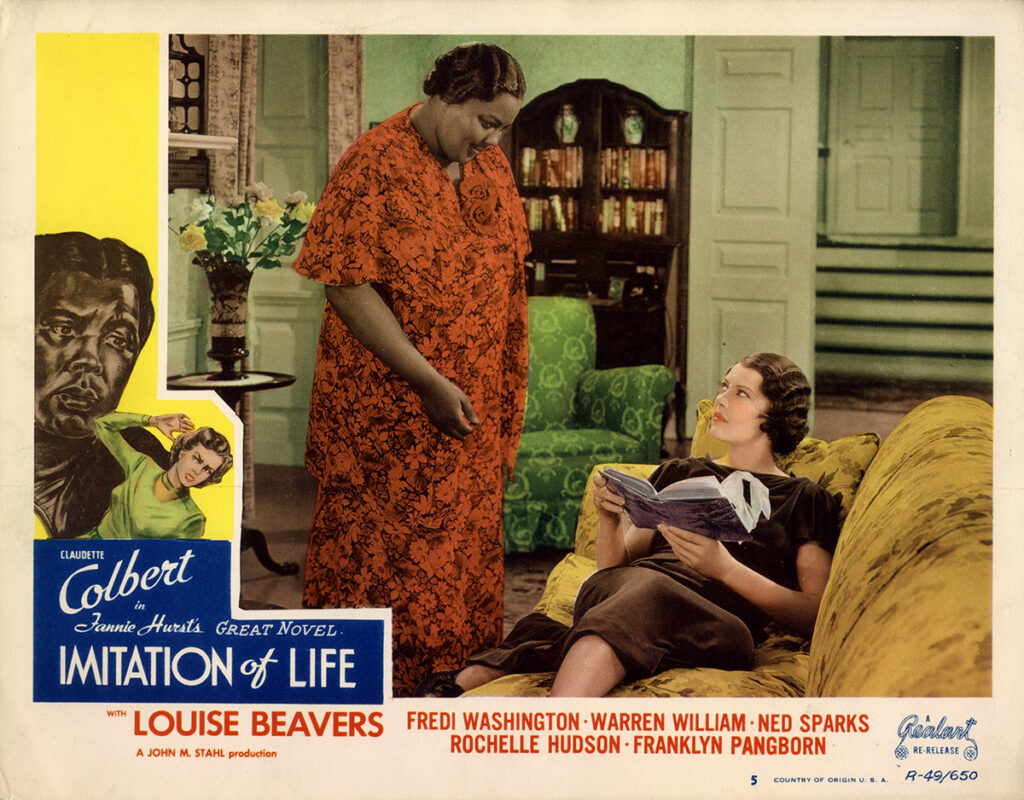 IMITATION OF LIFE (1935; 1949 reissue) Lobby card no. 5
Sold
[New York]: Realart, 1949. Vintage original 11 x 14″ (28 x 36 cm.) lobby card no. 5, slight wear to blank margins, NEAR FINE.
Director John Stahl's IMITATION OF LIFE is a landmark film of the 1930s. Two young women — one black, one white — both widowed with young daughters, come to live together and start a pancake business which eventually makes them wealthy. The young black girl, who is light-skinned, repeatedly tries to disappear into the white world, with tragic consequences.
This is the only Hollywood film of the 1930s which attempts to deal with the issues of race and racism. Bogle, Hollywood Black, p. 40: "The one film of the Depression to suggest that a contemporary race problem existed in America. It was also an unintentional comment on the exploitation of its African American character Delilah."
Advertising art from the film's original release of 1934 do not even hint at the two critical Black characters, and when Universal re-released the film in 1945, again both Louise Beavers (as Delilah) and Fredi Washington (as her daughter Peola) were nowhere to be seen. However, this Realart reissue of 1949 was surely designed to appeal to Black moviegoers, hence the graphics focus on Beavers and Washington.
Paper from this 1949 release is extremely scarce.
Out of stock
Share With Friends: