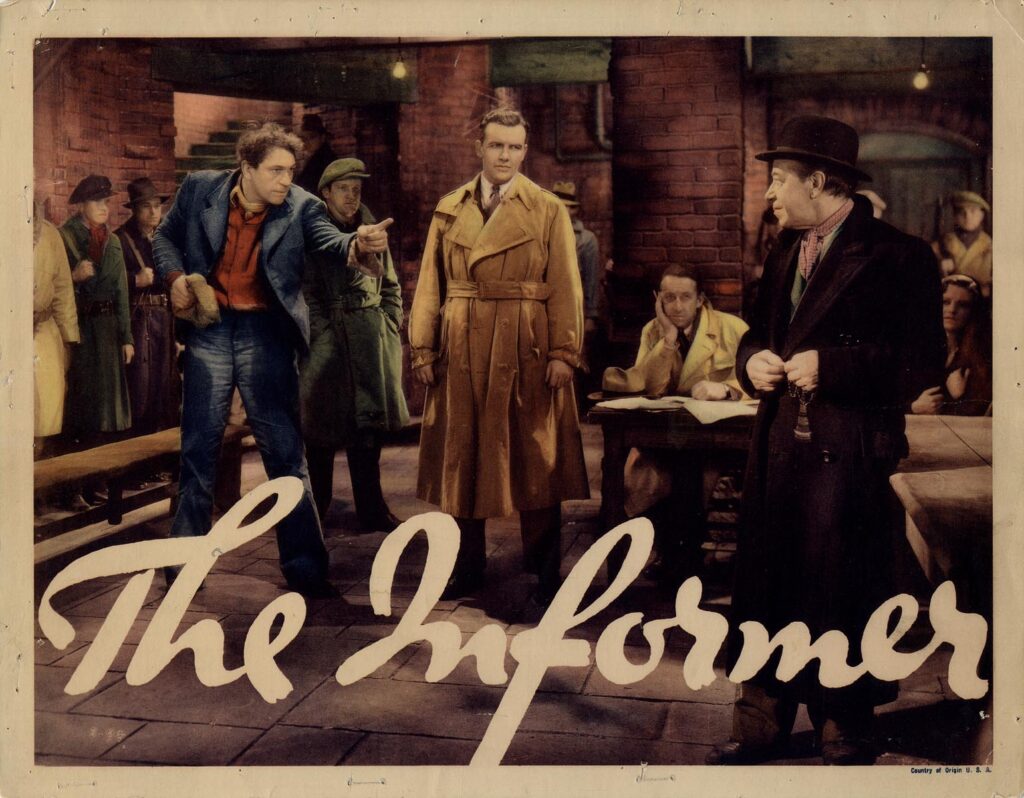 INFORMER, THE (1935) Lobby card
Sold
Vintage original 11 x14″ (28 x 35 cm.) lobby card, USA. Victor McLaglen, Heather Angel, Preston Foster, Margot Grahame, Wallace Ford, Una O'Connor, dir: John Ford; RKO.
Victor McLaglen plays poverty-stricken and destitute Gype Nolan, who has resorted to desperate means during the Irish Rebellion of 1922. Driven by a need for money, he has turned his IRA leader in to collect a reward.
This study of Gypo's conscience won McLaglen an Oscar for Best Actor. John Ford's superb and tense atmospheric direction earned the film a Best Picture nomination as well. Filmed in just 17 days on a modest budget, Ford was so impressed by F. W. Murnau's Sunrise that he brought the element of German Expressionism to his film. By keeping McLaglen off-center during the filming (mostly intoxicated), and by verbally abusing him, Ford pulled out the perfect performance from the actor as the simple Gypo.
In this medium shot we have Victor McLaglen pointing a finger, Joe Sawyer, Preston Foster and a cowering Donald Meek at right. Card displays rich vibrant color, there are numerous pinholes at each of the four corners and along each of the four blank white margins. Crease at mid right edge which goes into Meek's coat. Minor edge tears repaired with archival tape. Vivid color. VERY GOOD-FINE.
Out of stock
Share With Friends: