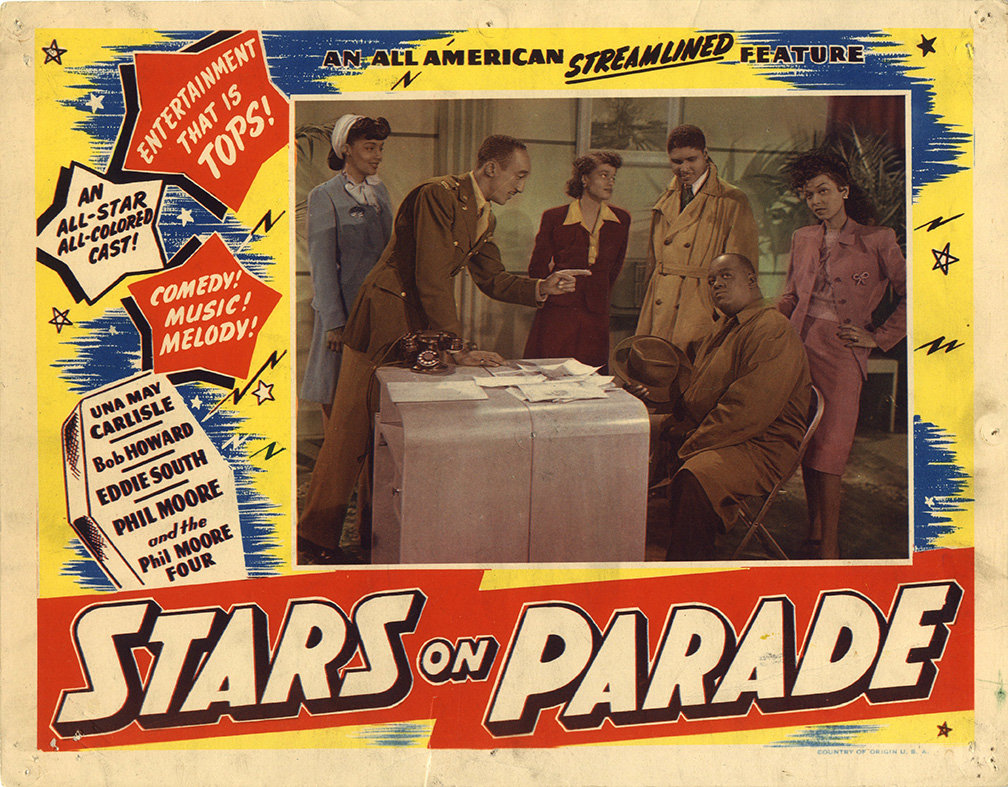 STARS ON PARADE (1947) Lobby card
$

250.00
Vintage original 11 x 14″ (28 x 36 cm.) lobby card, USA. Una May Carlisle, Bob Howard; dir: Joseph Seiden; All American. There is a neatly mended two-inch (3 cm.) tear at bottom center, multiple pinholes, and some minor creasing, very good-.
"Johnny Bennett has gone to war and left his sister Jane in charge of their radio station. Ira Lyon of the Glow-Tan cosmetic company is unhappy with his program and cancels it. When Johnny returns from duty and meets his sweetheart Patti Lyon, Ira's daughter, they both manage to persuade her father to attend an audition of new talent with a view to starting his program again.
"Meanwhile, famous radio stars Lucille Nestor and Don De Haven are stranded outside Johnny's studio when their car runs out of gas. After Lucille flirts with Johnny and Don does the same with Jane, they decide to stay on and help to create the new radio show, which Lyon has agreed to sponsor on a trial basis. However, Patti is very upset by Lucille's interest in Johnny. When Johnny finally tells Lucille that he is engaged to Patti, Lucille leaves.
"After Johnny hears a recording Patti has made, he makes her the star of the show, while Don convinces some major radio stars from New York to appear on the program. The broadcast begins with a song from Patti, after which she and Johnny reconcile.
"The show continues with appearances by swing violinist Eddie South, singer/pianists Bob Howard and Una Mae Carlisle, and numbers by the Phil Moore Four. Lyon and his partners are pleased with the show and agree to sponsor a series of broadcasts. Jane and Don have become romantically involved." (AFI)
Share With Friends: