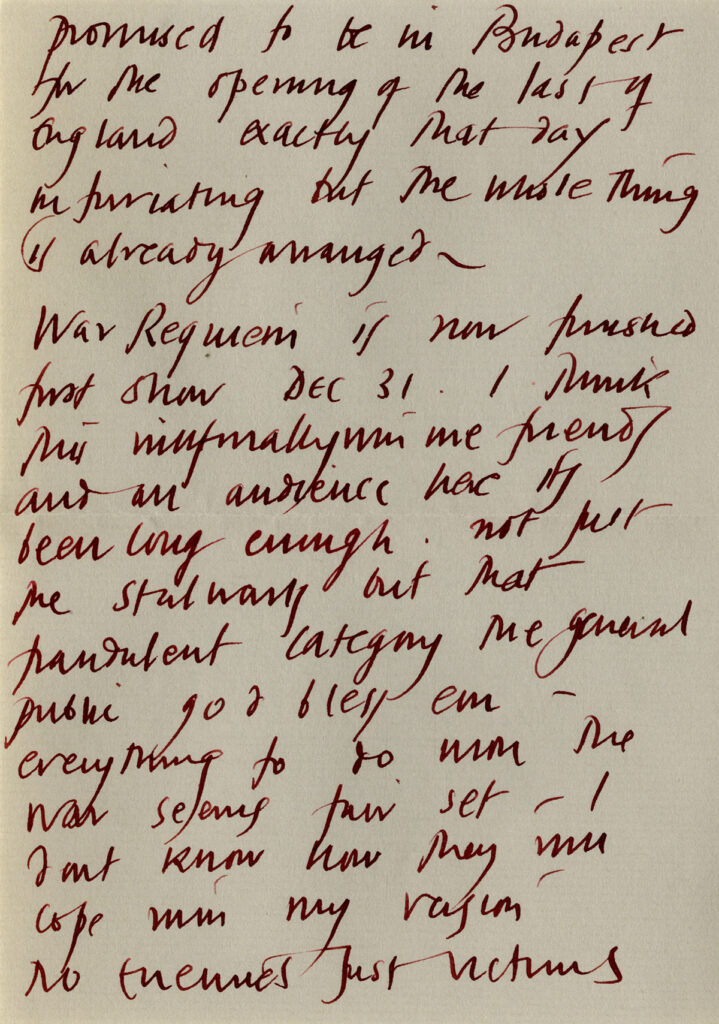 DEREK JARMAN (ca. 1985-88) Archive of unpublished signed autographed letters
$

2,500.00
Set of five (5) autograph signed letters (13 pages in all) and one autograph signed card, all written to gay film critic and historian David Ehrenstein, all in their original hand-addressed envelopes. Generally about fine, as follows:
1 p., envelope date-stamped 10 January 198-, but Ehrenstein was able to recognize this as the first letter in their correspondence, and from 1985. Jarman responds to Ehrenstein's positive review of his memoir "Dancing Ledge."
3 pp., dated February 26, year of date on envelope smudged, but one can make out the final digit 5, hence 1985. Jarman discusses his recent film THE ANGELIC CONVERSATIONS ( a film in which Jarman's onscreen imagery of two young men passionately making out, is accompanied by a soundtrack of Judy Dench reading Shakespeare sonnets).
3 pp., July 26, 1985. Further discussion of THE ANGELIC CONVERSATIONS He discusses the question of sex scenes vs. love scenes in his films and the homoerotic elements in the Shakespeare sonnets. He talks about the extreme difficulty with getting backing for films dealing overtly with gay subject matter, as well as copious male nudity. On stationery about 29.5 x 20 cm.
1 p. October 8, 1986. Typed signed card, promising a much longer letter to follow.
3 pp., 21 x 15 cm. Dated Dec. 25, with no year given, but, considering the content, this has to be from 1989, as he discusses his recently completed film WAR REQUIEM (in which he juxtaposed Britten's antiwar oratorio with violent war imagery), and also makes reference to an upcoming screening of his 1987 film THE LAST OF ENGLAND.
3 pp., undated, but ca. 1988-1989. A charming letter, in which he discusses the favorable audience reaction he recently had when showing his films in New York and Los Angeles, and the pleasure he had in a recent visit to Venice Beach, CA.
Accompanied by a letter of provenance from David Ehrenstein.
Derek Jarman (1942-1994) was one of the preeminent queer filmmakers of the late twentieth century, and one of the great names in British cinema. From the time of his feature film, SEBASTIANE (which rendered the story of Saint Sebastian in what for its time was disturbingly overt homoerotic imagery), Jarman left an indelible imprint on the history of LGBTQ art.
This is a remarkable body of unpublished, and thoughtful, revealing letters, telling us about his art and about him as a person. Jarman was an accomplished visual artist, and the calligraphy in which these letters are written is in itself beautiful to behold.
Share With Friends: