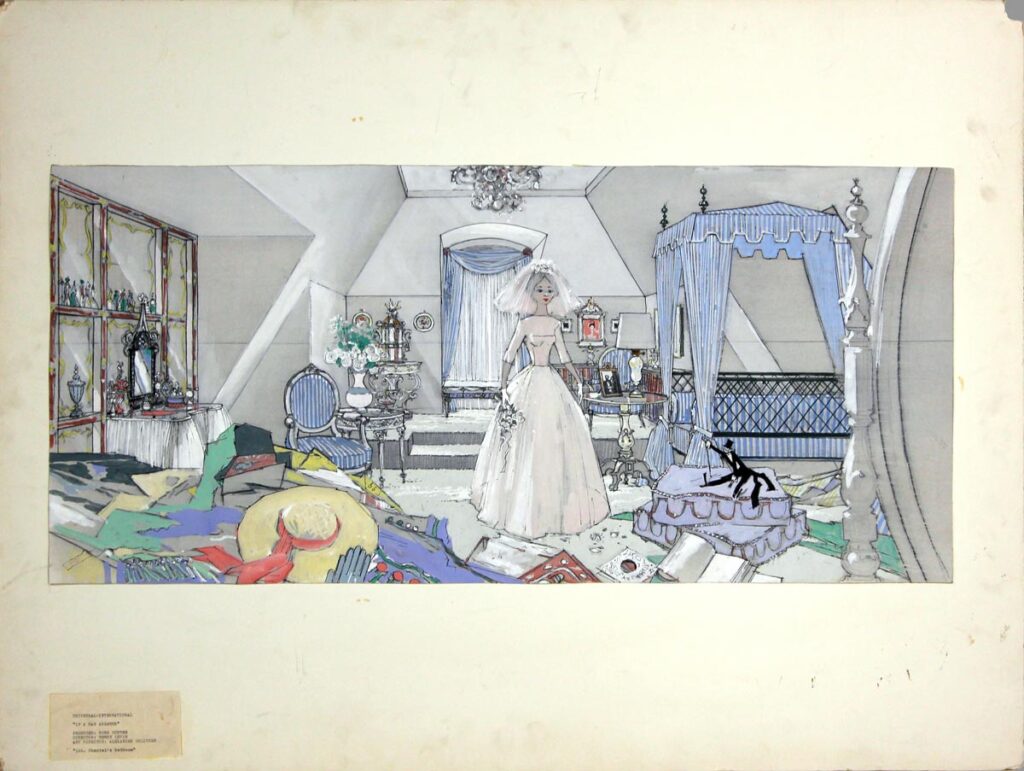 IF A MAN ANSWERS (1962) Oversize production set sketch
Sold
Vintage original 30 x 40″ (75 x 100 cm. board); 16 x 35″ (41 x 87 cm. painting) production set sketch, USA. Sandra Dee, Bobby Darin, Micheline Presle, John Lund, Cesar Romero, Stefanie Powers, dir: Henry Levin; Universal. Some staining to the board and the top right corner is chipped. Near fine.
Lighthearted romantic comedy, so popular at the time, about a wealthy young socialite (Sandra Dee) who marries a photographer (Bobby Darin) and the complications which ensue when she follows her mother's advice regarding an envious friend. This film was a big glossy Ross Hunter production with costumes by Jean Louis, art direction by Alexander Golitzen and set décor by Howard Bristol.
This oversize production rendering, accomplished in ink and paint, of Chantel's bedroom on her wedding day, is evidence of the extravagant production. The painting is not signed, but art director Alexander Golitzen is named on the signage attached to the bottom left of the board. The painting on paper is attached to heavy artboard.
Out of stock
Share With Friends: