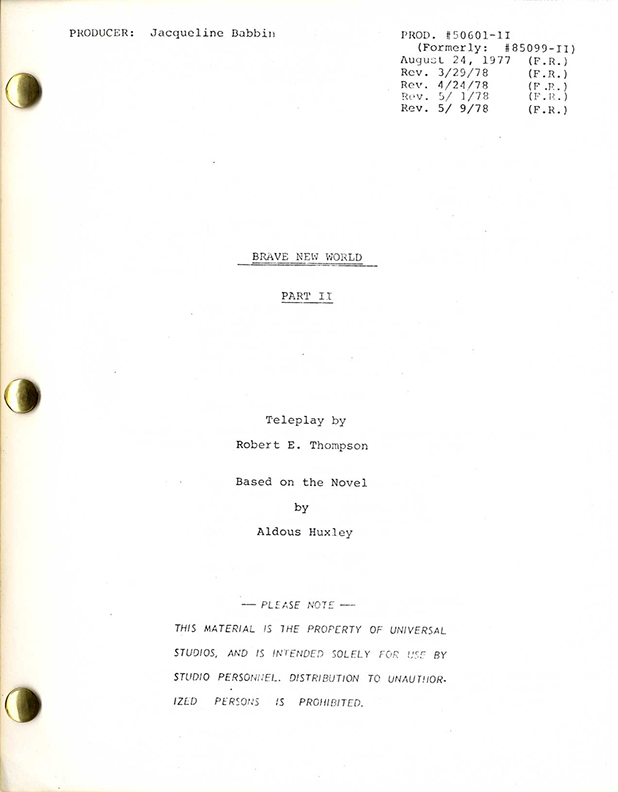 BRAVE NEW WORLD, PART I & II (1978) Set of 2 revised draft scripts
$

500.00
Aldous Huxley (source) Set of two (2) vintage original revised draft scripts, USA. [Hollywood]: Universal Studios, 1978. Two volumes, brad bound, printed wrappers, quarto,.[1],118;[1],119-234.
Revised drafts of scripts for what was originally conceived as a two-part miniseries, but aired on television in the U.S. in March of 1980 as an abridged, single 3-hour film. The BBC, however, broadcast the uncut version in March of 1981.
Doran William Cannon contributed to the final version of the production script. The present draft, which is credited to Thompson alone, includes revisions dated from 7 April through 6 June 1978.
This was the very first screen adaptation of Aldous Huxley's dystopian novel, which to date remains his most celebrated work. It is a difficult book to bring to the screen, and there have been three subsequent versions, of which the most recent one is in pre-production at this time.
Share With Friends: