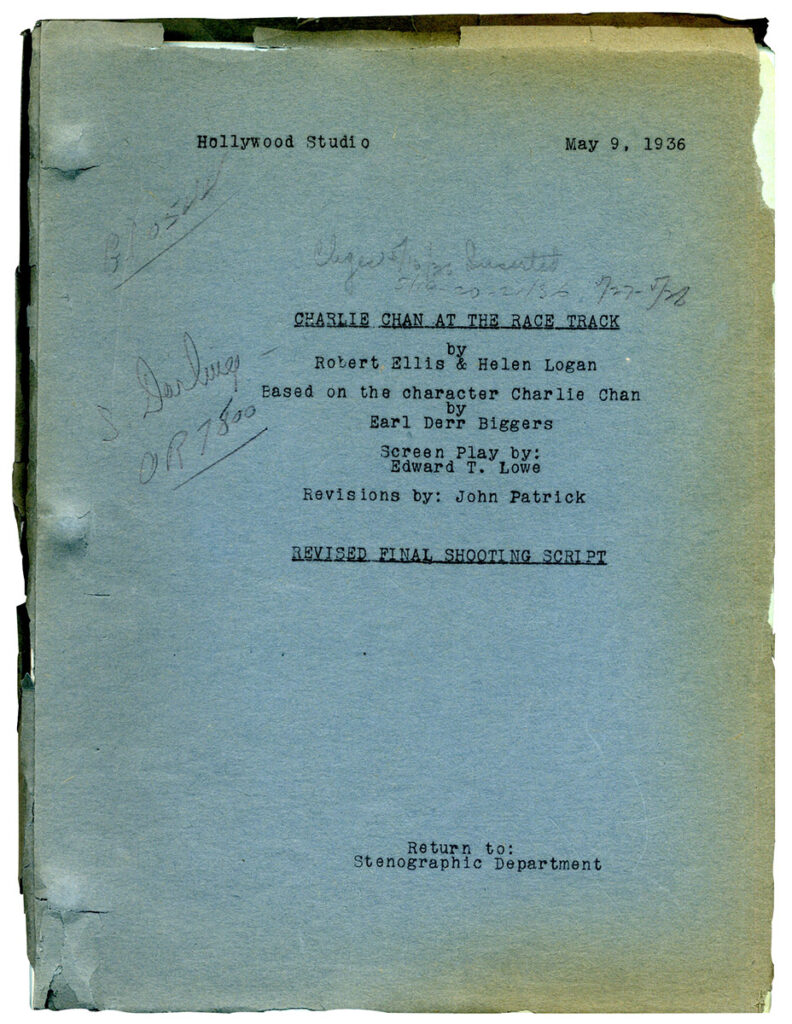 CHARLIE CHAN AT THE RACE TRACK (May 9, 1936) Revised Final shooting script
$

2,500.00
[Los Angeles: Twentieth Century Fox], 1936. Vintage original film script, 11 x 8 1/2″ (28 x 22 cm.), blue titled wrappers, noted as REVISED FINAL SHOOTING SCRIPT on the front wrapper, dated May 9, 1936, with credits for screenwriters Robert Ellis, Helen Logan, Edward T. Lowe and John Patrick, and novelist credits to Earl Derr Biggers. Title page integral with the first page of text, as issued. 125 leaves, with last page of text numbered 121. Mimeograph, with blue revision pages throughout, dated variously between 5/16/36 and 5/28/36. Near fine in very good- printed wrappers, chipped on the binding and edges, brad bound.
Script belonging to director H. Bruce Humberstone, with his holograph pencil annotations on the front wrapper and a typed note addressed to Humberstone from producer J.E. Grainger laid in with the script.
The twelfth film in the long-running Charlie Chan detective series, featuring actor Warner Oland as the eponymous Honolulu detective.
Share With Friends: