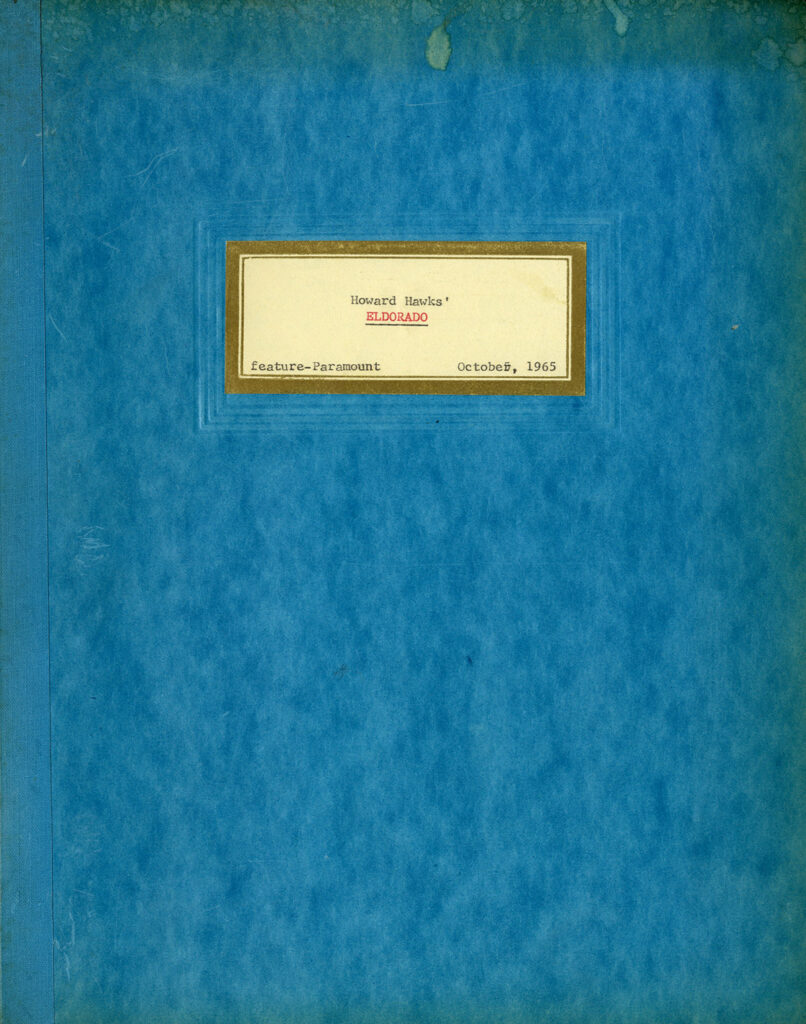 EL DORADO (under working title: ELDORADO] (Sep 23, 1965) Shooting script general distribution by Leigh Brackett
Sold
[Hollywood: Paramount Pictures, September 23, 1965 Vintage original film script, 11 x 8 1/2″ (28 x 22 cm.). Mimeograph, 139 pp. Two pages of revisions are photomechanically printed. This script belonged to actor Johnny Crawford, who played the role of "Luke" and has underlined and crossed out a few lines here and there. Crawford bound the script into stiff plain wrappers, with a typed label on front, with a metal clasp, NEAR FINE.
Screenwriter Leigh Brackett, who had previously worked on such other Hawks film as THE BIG SLEEP and RIO BRAVO, wrote the script for this movie, in which Cole Thornton (John Wayne), a gunfighter for hire, joins forces with an old friend, Sheriff J.P. Hara (Robert Mitchum). Together with an old Indian fighter and a gambler, they help a rancher and his family fight a rival rancher that is trying to steal their water.
This was to be Hawks' penultimate film, and it remains a classic Western. Although viewed by some as a kind of remake by Hawks of his previous John Wayne Western, RIO BRAVO (1959), this is a more leisurely, contemplative film.  The violent gun battle with which the film inevitably concludes is set within a narrative context of a complex, interconnected community, with a strong, implicit code of ethics.
Filming commenced on October 11, 1965, and ended on January 28, 1966. Hence, this script, which contains revisions dated up through October 14, must be considered as extremely close to the final edited film.              
Pagination:
Title page
Cast list (this one page photomechanically printed)
9-23-65: 1-23
9-26-65: 24-41

9-29-65:42-52

10-5-65:53-67

10-8-65:68-87

10-12-65:88-115

10-14-65: 116-139
Out of stock
Share With Friends: