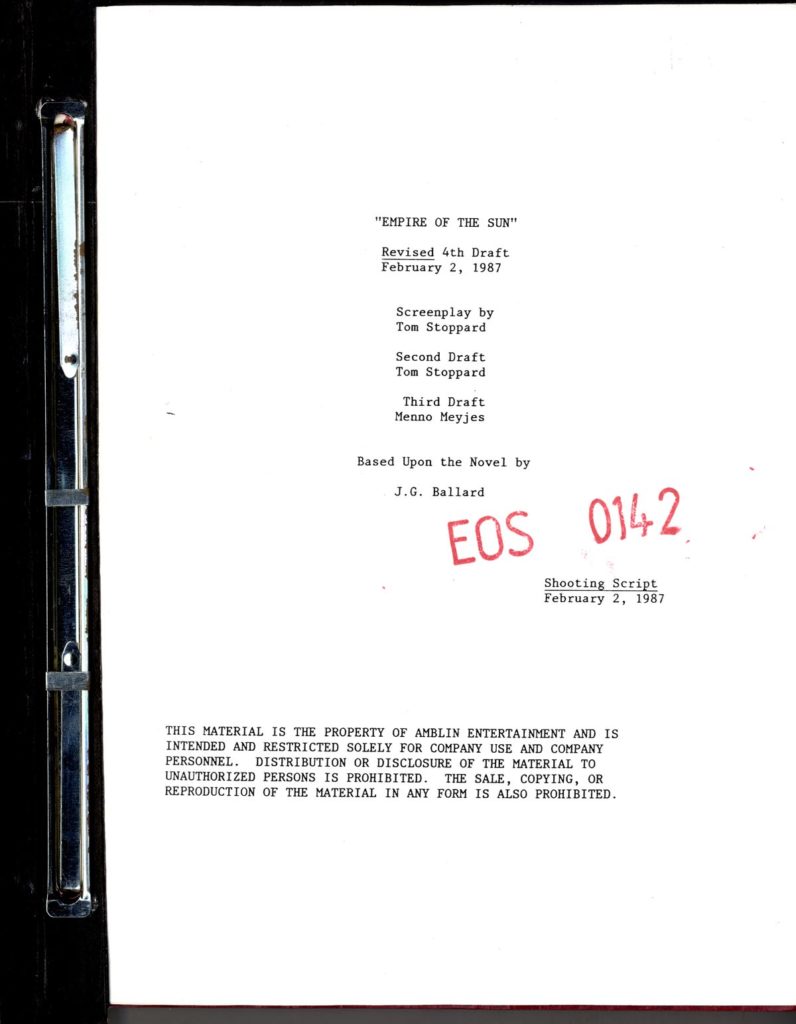 EMPIRE OF THE SUN (1987) Revised 4th Draft Screenplay by Tom Stoppard
Sold
[Np]: Amblin Entertainment, 2 February 1987. [1],160 leaves. Quarto. Mechanically-reproduced typescript, printed on rectos only. Clasp-bound in generic binder. Each leaf is watermarked by production company Amblin with their characteristic stamping in red with the script number, overall just ABOUT FINE.
Denoted a "shooting script" of Tom Stoppard's adaptation of J.G. Ballard's award-winning book, for which he received sole screen credit. Shooting ended in early June, and the December 1987 release was directed by Steven Spielberg, starred Christian Bale, John Malkovich, Miranda Richardson, Nigel Havers, et al, and received six Academy Award nominations.
This is often considered one of Spielberg's most important films. Bale's performance in the role of Jim Graham, a young boy who is forced by the catastrophe of war to rapidly mature and learn survival skills, is frequently cited (along with Spielberg's portrayal of the devastation of war). With his 1985 THE COLOR PURPLE and this film, from two years later, he had begun — in the midst of a massively successful career as a director of popular, commercial feature films — to explore adult and serious themes. This was his first film about the rigors and tragedy of war, a subject he would repeatedly return to in future years.
Out of stock
Share With Friends: