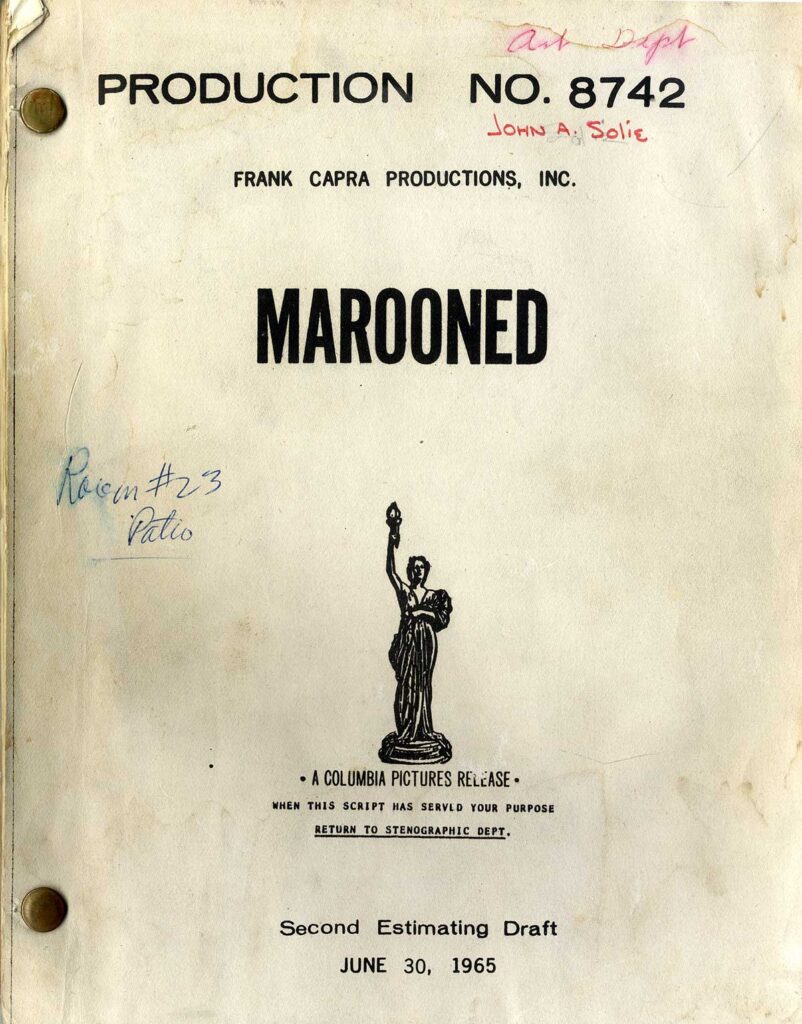 HEARTBEAT ONE [MAROONED] (1965) Unproduced film script by Frank Capra
Sold
Frank Capra (screenwriter) Hollywood: Frank Capra Productions, 1965. Printed wrappers, The wrappers designate this as a Second Estimating Draft, with a date of June 30, 1965, but the title page notes this as a Fourth Draft by Walter Newman, with revisions by FC [Frank Capra]. The name of John Solie, in the film's art department, is written on front wrapper. Brad bound, mimeograph, light stains to wrappers, generally NEAR FINE.
/// COLLATION:
[1], 1-45, 45A, 46-71, 72-73, 74-125, 128, 133-162, 165-166, 174, 191-192, 202
June 13 revisions: 126-127, 129-132, 163-164, 167-173, 178, 181-190, 201, 203
June 14 revsions: 175, 179, 193-200
A massive script, on which producer/director Frank Capra worked at length, for an unproduced film. Eventually, a film was made from this basic story, a dull slog by director John Sturges which bears little relation to Capra's intended creation.
In his autobiography, Capra tells the story of the MAROONED that never got made:
"Howard Houseman, head of the William Morris New York office, called my attention to a book a writer client, Martin Caidin, had just written. Marooned dealt with an American astronaut whose re-entry retrorockets fail to fire, and the consequent dramatic rescue race between Russian and American space agencies. It read like great theater. I obtained an option and presented the project to Mike Frankovich, successor to Harry Cohn at Columbia Studios. Twenty-four years earlier I had given football star Frankovich his start in motion pictures. He had played a football announcer in Meet John Doe.
Mike went for Marooned in a big way. I moved back into Columbia Studios in May, 1964. Walter Newman began writing what was to become a most magnificent script."
— Frank Capra, The Name Above the Title (1971)
This is the "magnificent" Walter Newman screenplay for the production that director Frank Capra was "euchre-ed" (Capra's word) out of making by Frankovich and his studio, an incident that led directly to Capra's retirement. Eventually, Frankovich produced his own version of MAROONED, but with a different director, John Sturges (BAD DAY AT BLACK ROCK), and a screenplay by Mayo Simon (FUTUREWORLD, PHASE IV).
Walter Newman (1916-1993) was a top tier Hollywood screenwriter, born in New York City, whose best known screenplays were ACE IN THE HOLE (Billy Wilder, 1951), CAT BALLOU (Elliot Silverstein, 1965), and BLOOD BROTHERS (Robert Mulligan, 1978), all three of which were nominated for Academy Awards. The rescue situation in Newman's ACE IN THE HOLE screenplay has more than a little in common with the rescue situation in MAROONED. His screenplay for the Capra MAROONED was initially titled HEARTBEAT ONE.
There are substantial differences between Capra and Newman's MAROONED/HEARTBEAT ONE script and the movie that eventually got made. Capra and Newman envisioned something epic – their screenplay is 205 pages long – and the reason the studio claimed they wouldn't make it was because of the projected cost.
The Capra/Newman screenplay begins with the two main astronaut characters, Pruett (eventually played by Richard Crenna) and Dougherty (eventually played by David Janssen) seeming to land a module on the moon. The 1969 movie begins more modestly with stock footage of a rocket taking off from the Kennedy Space Center in Florida. In the Capra/Newman screenplay, there is humor from the very beginning with Pruett responding to a command by saying "Herman" instead of "Roger" (prompting the response, "Who's Herman?" Pruett replies, "Did I ask who's Roger?"). The 1969 movie is notably humorless. As it turns out, the moon landing in the Capra/Newman screenplay is a simulation created at the Space Center for training purposes preceding the actual launch of Pruett into space.
Naturally, there are some similarities between the Capra/Newman screenplay and the screenplay that was filmed, since they were both based on the same source novel. The central situation in both is of astronauts stranded in orbit when the re-entry rockets on their space vehicles fail to fire, and the efforts of NASA and others to rescue them. However, in the Capra/Newman screenplay, there is only one astronaut, Pruett, who is marooned. In the 1969 movie, there are three. The initial character dynamic established in the Capra/Newman screenplay is the classic Hollywood paradigm of two high-spirited buddies, Pruett and Dougherty, who are also rivals. Eventually Dougherty, the stranded astronaut's pilot buddy, will play a prominent role in his rescue. The 1969 movie, much colder than the Capra/Newman screenplay, dispenses with most of this. The relationship between the three astronauts who are stranded in space – Pruett (Crenna), Stone (James Franciscus), and Lloyd (Gene Hackman) – is soberly professional. However, in both the Capra/Newman screenplay and the 1969 film, the principal problem – the ticking clock – is how to rescue the astronaut(s) before their limited supply of oxygen runs out.
Another interesting difference – All three of the astronauts in the 1969 movie have wives who are the only women in that predominantly white male film. Pruett in the Capra/Newman screenplay is single, but has a girlfriend. Identifying and locating her, so she can talk to the stranded Pruett, is a major plot point. (The determined elderly newspaperwoman who tracks her down might have been written by Capra and Newman with Bette Davis in mind.) We witness the development of their relationship – she is Italian – in a lengthy flashback.
The action in the 1969 movie is largely confined to the space capsule and the NASA space center below. In Capra and Newman's screenplay, we see the whole world, professional and civilian – even the Russians! – getting involved. The image of a community coming together to save a protagonist in trouble is very Capra-esque, like the town of Bedford Falls collectively coming together to rescue George Bailey at the end of IT'S A WONDERFUL LIFE.
Capra had studied engineering before becoming a filmmaker, a background that came in handy when in the 1950s he directed a series of educational specials for The Bell System Science Series: Our Mr. Sun (1956), Hemo the Magnificent (1957), The Strange Case of the Cosmic Rays (1957), and Meteora: The Unchained Goddess (1958). Capra's version of MAROONED, as demonstrated by this screenplay, would very likely have combined science with humor, warmth, and humanity as he had done in those '50s specials, unlike the relentlessly grim, serious, and methodical John Sturges version of MAROONED that we ultimately got.
Out of stock
Share With Friends: