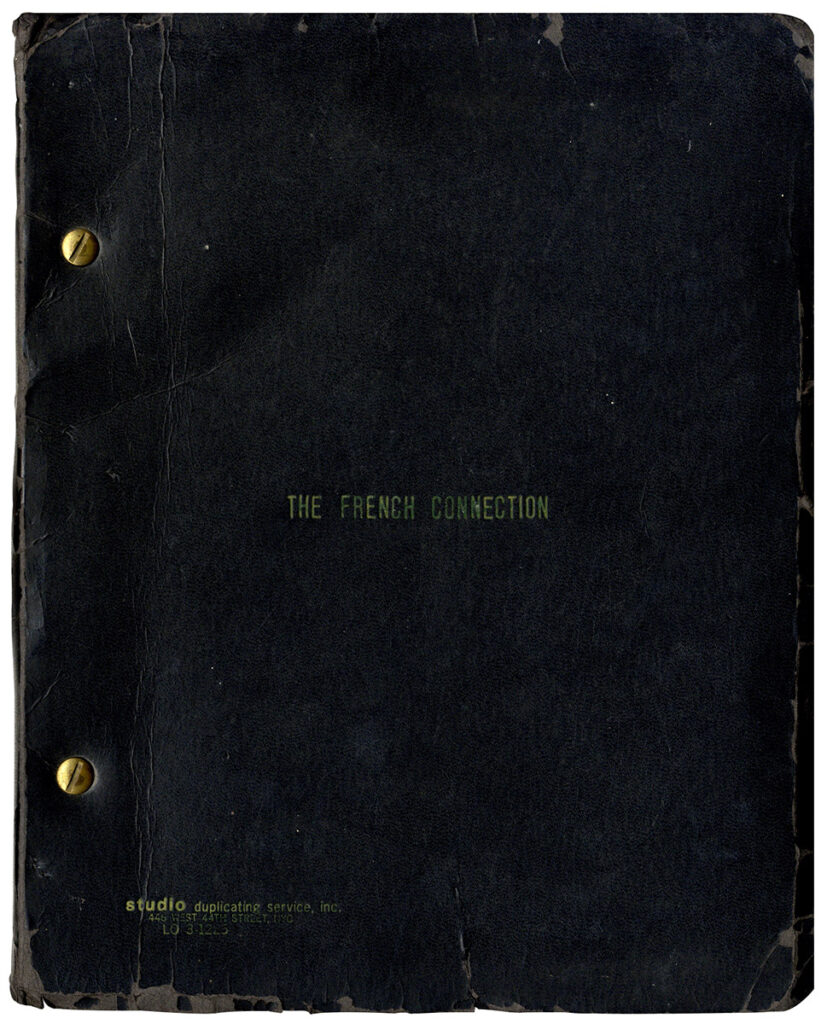 FRENCH CONNECTION, THE (Nov 16, 1970) Revised screenplay by Ernest Tidyman, Based on the book by Robin Moore
Sold
[New York]: November 16, 1970. Vintage original film script, 11 1/2 x 9″ (29.5 x 23 cm.), imitation leather Studio Duplicating Service-titled wrappers, brad bound, mimeograph, 91 pp. (1-33, 35-37, 39-93.) Lacking pages 34 and 38, as used in production. Wear to edges of wrappers, with creasing and marginal tears, near fine in very good wrappers.
This script belonged to Randy Jurgensen, the only surviving member of the four NYPD officers who served as technical advisors to the film. It comes with a letter of provenance from Mr. Jurgensen (who also had a cameo role in the film as a police sergeant.) With this classic film now in the 50th anniversary of its original release, it has received a lot of added attention, and numerous newspaper articles have appeared about the film and Jurgensen's role in it.
THE FRENCH CONNECTION was a breakthrough film for director William Friedkin (born 1935 in Chicago, Illinois) and star Gene Hackman, playing its cop protagonist, Jimmy "Popeye" Doyle. A fact-based policier shot documentary-style on the streets of New York City, it went on to win the 1971 Academy Awards for Best Picture, Best Director (Friedkin), Best Actor (Hackman), Best Adapted Screenplay (Ernest Tidyman), and Best Film Editing. It is considered one of the foundational works of the New American Cinema.
The most significant changes between the November 1970 screenplay and the film involve scenes and lines that were omitted. In the movie, we have a scene with Doyle handcuffed to a bed following a one-night stand, but the screenplay also includes the scene where he picks up the girl. In another scene that was scripted but apparently not shot, Doyle is working undercover in drag as "a lady in a babushka". The assassin Nicoli has a scene that was scripted but not included in the film where he is masochistically whipped by a prostitute.
The biggest difference between the November 1970 screenplay and the film is the way the movie ends. Both end with Doyle and Russo chasing Charnier into an abandoned building where he escapes. However, in the movie Doyle disappears into a corridor offscreen and we hear a shot ring out – the film never explains who Doyle was shooting at or if anyone was actually shot. Thus, the film ends on a note of intentional ambiguity that is characteristic of director Friedkin (particularly his later films). The movie then concludes – unlike the screenplay – with a rundown of what happened to the principal characters after the events in the movie, emphasizing that the villain, Charnier, was never caught.
Out of stock
Share With Friends: