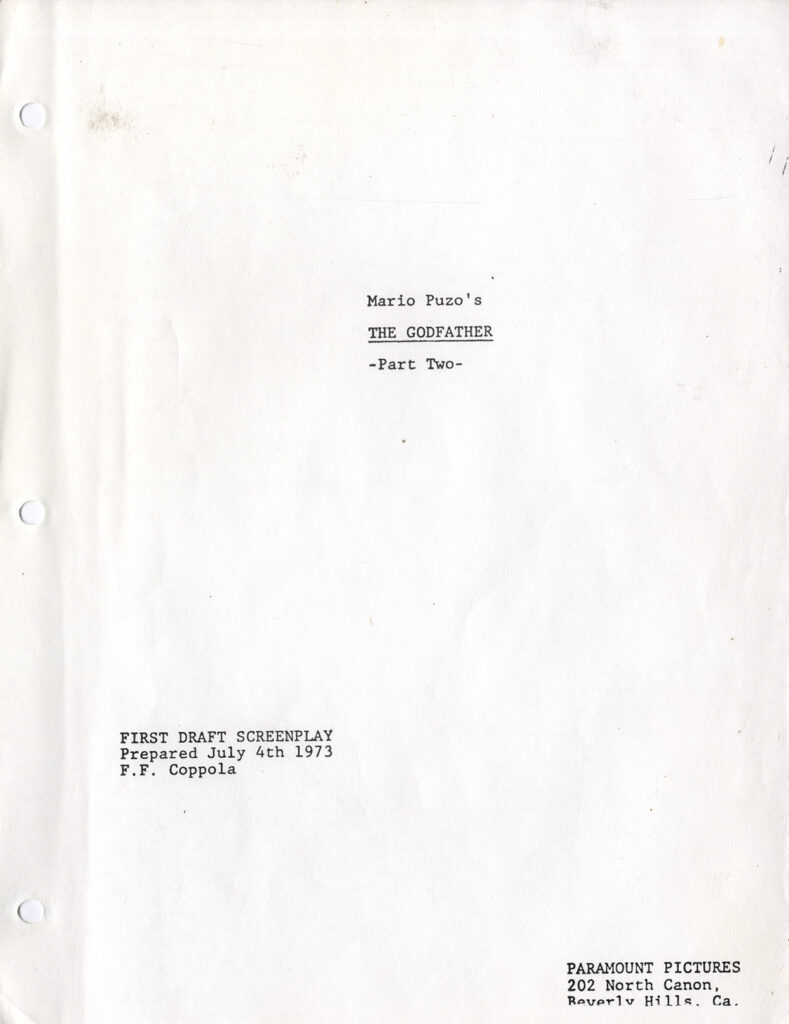 GODFATHER: PART II, THE (1974) First Draft screenplay prepared Jul 4th 1973 [by] F.F. [Francis Ford] Coppola
Sold
Mario Puzo (source) Francis Ford Coppola (screenwriter, director) Vintage original film script, USA. Beverly Hills: Paramount Pictures, 1973. Plain wrappers, brad bound, 165 pp., Xerographic duplication. Light stains to wrappers, overall NEAR FINE, in a quarter morocco clamshell case.
This first draft screenplay of Francis Ford Coppola's masterpiece – arguably, one of the greatest of American films – is unfinished. As Coppola himself explains in his preface to the screenplay:
"NORMALLY, I'D LIKE THE OPPORTUNITY TO FINISH THE ENTIRE DRAFT, AND THEN MAKE REVISIONS BEFORE LETTING ANYONE READ PAGES. SINCE IT'S MORE IMPORTANT THAT I PUSH ON TO COMPLETE THE DRAFT, I'VE NOT GONE BACK [TO] FINESSE ANY OF THESE PAGES: THEY ARE ENCLOSED PURELY AS AN ACCOMMODATION TO PARAMOUNT TO SEE THE SCOPE OF THE PROJECTED FILM, AND FOR SCHEDULING AND BUDGET PURPOSES. SO PLEASE READ THIS AS A WORK IN PROGRESS…"
Remarkably, given the complex and innovative structure of the narrative, this detailed first draft is fairly close to the completed film, as if Coppola had the entire movie in his mind – knew exactly where it was going and how it would end – but hadn't yet put it all on paper.
THE GODFATHER PART TWO script (filmed and released as THE GODFATHER: PART II) is both a prequel and a sequel to the first GODFATHER film, intercutting two time periods – a prequel section (1901 and 1917-1920), in which future godfather Vito Corleone (Robert De Niro) emigrates from Sicily to New York City's Little Italy and begins his rise to power, and a sequel section (1958-1959), taking place mainly in Lake Tahoe, Nevada, during which Vito's ruthless son, Michael Corleone (Al Pacino), consolidates his national crime empire. There is also a brief interlude in pre-Castro Cuba.
As long as this epic film is (3 hours and 20 minutes), if everything in the first draft had been filmed and included in the final cut, it would have been substantially longer.
After an opening sequence showing Vito as a 9-year-old boy in Sicily and his journey to America via boat, the script describes the first Lake Tahoe scene (1958) as follows:
The lawns of this great estate on the shore of Lake Tahoe are covered with guests of a wonderful summer party to honor the first Holy Communion of Anthony Corleone, the son of Mr. and Mrs. Michael Corleone. A full dance orchestra plays music of the times on a pavilion-bandstand built especially for the occasion. Speedboats roar through the waters, pulling youthful water-skiers; and the pool and private harbor are filled with laughing, swimming guests.
Visually, this is exactly what we see in the film itself. Moreover, the first Lake Tahoe sequence immediately begins a dialogue with the previous GODFATHER movie. Whereas the first GODFATHER began with a very warm and very Italian family celebration, the Lake Tahoe celebration that begins GODFATHER II is comparatively cold, formal, and WASP-y. To underline the point, the script has Clemenza (a beloved character from the first GODFATHER film) asking the orchestra to play something Italian and wondering why he is being served canapés instead of traditional Italian cuisine.
And here we have one of the first big differences between GODFATHER II's first draft script and the completed film. In the completed film, Clemenza (due to a dispute between the producers and the actor who played the role) is no longer a character in the 1958-1959 section, having been replaced by a new character, Frankie Pentangeli (played by Michael V. Gazzo) who takes over his dialogue and plot function. (Young Clemenza is still an important character in the 1917-1920 section.)
Other differences between the first Lake Tahoe sequence in the script and the way it was filmed – In the script, Michael Corleone's brother, Fredo (John Cazale), is married to a Hollywood star named Deanna Dunn. In the movie, Fredo is married to a non-entity showgirl type. In the script, there is a famous black entertainer character named T.J. Jones, and Fredo gets angry when he sees his wife dancing with him. That character and several others in this sequence are omitted from the film.
In the script's Little Italy sequences (1917-1920), there are scenes in which young Vito courts the woman who will become his wife. In the movie, those scenes are omitted, and he is already married. In the script, Vito and a friend intervene in a fight between some Italians and a young Jewish man who will grow up to be his partner – and later nemesis – Hyman Roth (played as an old man in the film by Lee Strasberg). The scenes involving the young Hyman Roth are omitted from the film.
The scene in which young Vito assassinates the malicious and powerful Don Fanucci is somewhat more elaborate in the script, involving Fanucci's daughters and a cat – none of whom are seen in the film. A prior scene in which Don Fanucci is attacked by others – but survives – has also been omitted.
In the 1958-1959 sections of the script, the characters of Michael's wife Kay (Diane Keaton) and adopted brother Tom Hagen (Robert Duvall) have more scenes than they do in the completed film. There is a scene in which Kay runs away from Michael to Connecticut, taking their children with her. In another omitted scene, Tom attempts to rationalize Mike's murderous behavior to Kay. Michael's sister, Connie (Talia Shire), also has more scenes in the script than she does in the completed film, for example, in the movie we do not get to see her marriage to gold digger Merle Johnson (Troy Donahue) in a tawdry Las Vegas wedding chapel.
This first draft script concludes with the scene in which young Vito returns to Sicily and slits the belly of the old man, Don Ciccio, who killed his father and mother, intercut with Michael's appearance before the Senate committee investigating organized crime in 1959. The script is overall more violent than the completed film. In the script, returning Vito kills not only Don Ciccio, but three others who were involved in the murder of his family – each killing given its own scene.
Left out of this "incomplete" first draft are the movie's concluding scenes in which Michael eliminates everyone who opposes him (MICHAEL: I don't feel I have to wipe everybody out, Tom. Just my enemies.) He has his pathetic brother, Fredo, shot on a boat on the lake. Frankie Pentangeli slits his wrists in a bathtub. Hyman Roth is murdered as he debarks from a plane in Miami. Michael closes the door on his wife, Kay.
The completed movie, once again engaging in a dialogue with its predecessor, ends with an epilogue – the "birthday flashback" – taking place during the time of the first GODFATHER film (i.e., between the past and present sections of GODFATHER II), in which Vito Corleone's three sons (played, as in the first film, by Al Pacino, James Caan, and John Cazale) are standing around the dining room table, waiting for their absent father to arrive, and Michael announces he has signed up to fight in World War II. Family bonds, and the betrayal of family bonds, is one of the principal themes of all of three Godfather films. However, the corruption that is just starting to take over during the first GODFATHER film, is omnipresent – pervasive at every level of society – in GODFATHER II.
Notwithstanding a halting start at the box office, THE GODFATHER PART II was soon recognized as an American classic, winning 1975's Academy Awards for Best Picture, Best Director (Coppola), Best Supporting Actor (Robert De Niro), Best Original Dramatic Score (Nino Rota and Carmine Coppola) and a well-deserved Best Adapted Screenplay award shared by Francis Coppola and Mario Puzo.
Out of stock
Share With Friends: