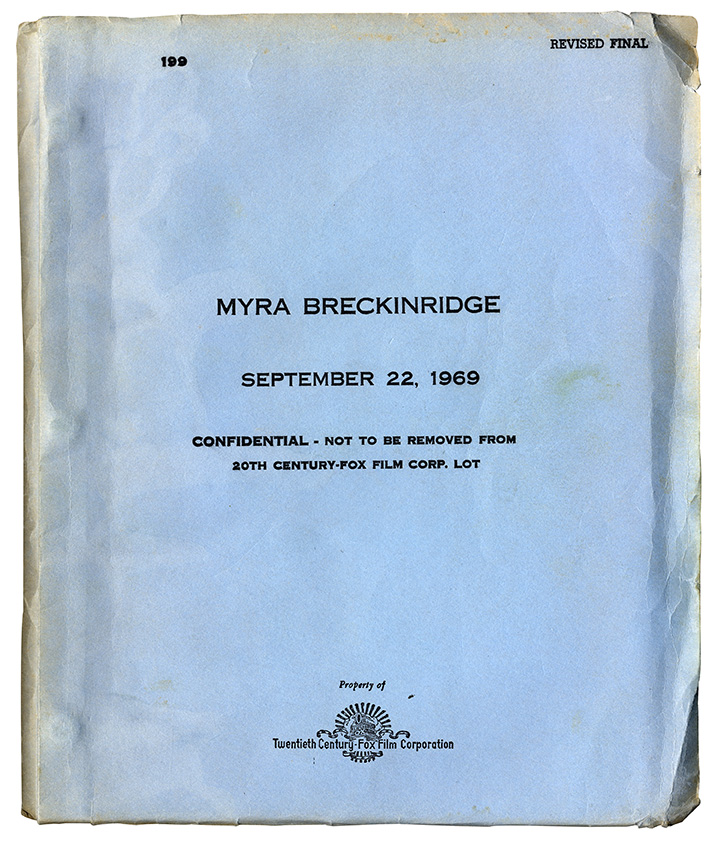 (GORE VIDAL, SOURCE) MYRA BRECKINRIDGE REVISED FINAL SEPTEMBER 22, 1969
Sold
Vintage original film script. Quarto, printed studio wrappers, brad bound, mimeograph, [2], 125 pp. Moderate wear to yapped edges of wrappers, NEAR FINE in VERY GOOD wrappers.
Gore Vidal's novel MYRA BRECKINRIDGE, published in 1968, was a wild satirical fiction about a recently transitioned transsexual woman, formerly Myron, now Myra, who arrives in Hollywood to wreak various forms of havoc. Twentieth Century Fox greenlit this project at a time when all the major Hollywood studios were struggling with changing times, and trying out new formulas to win back younger audiences.
"There were months of speculation over who would play the title role. Raquel Welch was cast in July 1969.
"The next major casting was Mae West, accepting her first film role since 1943. (She claimed to have turned down Pal Joey and The Art of Love.) West was introduced to producer Robert Fryer via George Cukor. 'It's a return, not a comeback,' said West. 'I've never been away, just busy.' The producers allowed her to rewrite her dialogue and sing some songs. She was paid $350,000. She was also responsible for getting a then-unknown Tom Selleck cast as one of her studs in the film. Farrah Fawcett was also an unknown when she was cast in this movie." (Wikipedia).
Along the way, the film manages to intersperse large pieces of post-modernist references to old Hollywood and snarky satire on the city as of 1970. The astonishing cast, besides Welch and West, included Rex Reed, and Grady Sutton (who, in old Hollywood, had played a huge number of "sissy" comic parts).
This late version of the script most likely incorporates both the work of David Giler (who had prepared numerous drafts of it for Fox) and the late revisions written by director Michael Sarne. The film's sexual explicitness, coupled with its lead character being transsexual, made it wildly controversial at the time of its release. Parish 162. Benshoff and Griffin, pp. 141-4.
Out of stock
Share With Friends: