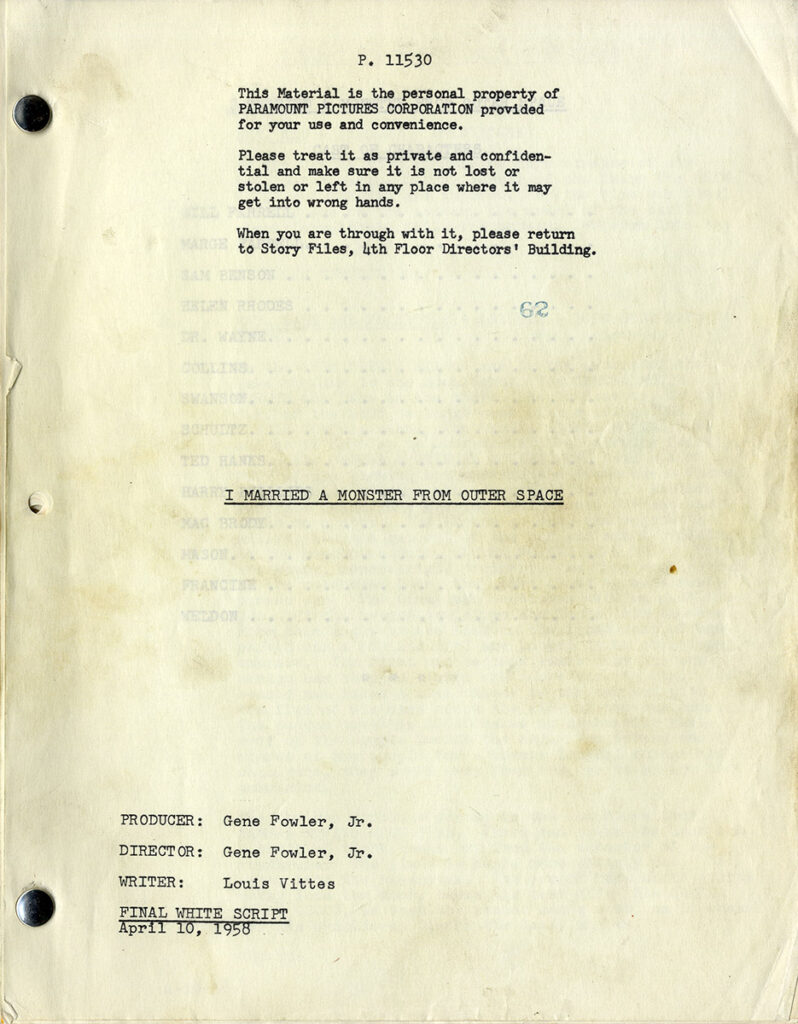 I MARRIED A MONSTER FROM OUTER SPACE (Apr 10, 1958) Final White script by Louis Vittes
Sold
[Hollywood]: Paramount Pictures, 1958. Vintage original film script, dated April 10, 1958, 11 x 8.5″ (28 x 22 cm.), 116 pp. There are pages of revisions on orange paper dated April 15, 1958, and April 17, 1958. Self-wrappers, brad bound, mimeograph, minor smudging to title page, otherwise script is in immaculate condition, just about fine.
I MARRIED A MONSTER FROM OUTER SPACE may have one of the most lurid titles in the annals of 1950s sci-fi, however, as film historian Gerald Peary notes in his book Cult Movies, "Only in the last few years have horror and science fiction fans come to realize the outrageous title is totally unsuited for what is basically an intelligent, atmospheric, subtly made sci-fi thriller."
I MARRIED A MONSTER FROM OUTER SPACE was the second feature directed by Gene Fowler, Jr., a well-respected film editor who had previously worked for directors like Samuel Fuller and Fritz Lang. Fowler's first directing effort, I WAS A TEENAGE WEREWOLF, had been a big hit for American International Pictures in 1957. I MARRIED A MONSTER FROM OUTER SPACE, which Fowler produced and directed for Paramount Pictures in 1958 (the title devised by Fowler intentionally recalled his first hit) was a significantly more prestigious production that made use of top-flight studio technicians like art director Henry Bumstead and editor George Tomasini, both of whom worked that same year on Alfred Hitchcock's VERTIGO.
The original screenplay was by Louis Vittes, a writer who had previously collaborated with director Fowler in series television. The completed film is, for the most part, scrupulously faithful to this screenplay. According to some sources, author Vittes was present on set throughout the entire shoot to make sure his dialogue was spoken exactly as written. The numerous scenes without dialogue are described in meticulous detail in Vittes' script.
The movie itself is a fascinating hybrid of genres, blending sci-fi and horror with the Sirkian woman's film and elegant film noir visuals. The story's central conceit, a young bride (Gloria Talbott) who begins to notice something odd about her husband after their marriage, has its roots in such classic woman-centered melodramas as SUSPICION, GASLIGHT, and Lang's SECRET BEYOND THE DOOR. Indeed, Tom Tryon as the husband-with-issues in I MARRIED A MONSTER FROM OUTER SPACE could be a first cousin to Robert Stack's husband-with-issues in Sirk's WRITTEN ON THE WIND. Except in I MARRIED A MONSTER FROM OUTER SPACE, the issue is that the husband is actually a space alien.
The husband's secret "alien-ness" could be a metaphor for any number of real-life situations, including closeted homosexuality (one is reminded of Dennis Quaid's closeted gay husband in Todd Haynes' FAR FROM HEAVEN). This interpretation of the story is bolstered by numerous factors, including Tom Tryon's stilted performance (the actor was himself a closeted gay), the way the husband Bill and other husbands-possessed-by-aliens like to gather nightly at a roadhouse away from their wives, a scene in which Sam, another husband-possessed-by-an-alien, has a coy conversation with Bill meant to tease out his secret "alien-ness," and finally, the way the screenplay differentiates "real men" from aliens — "real men" have children, drink alcohol, have dogs, and like to carry guns.
There are some minor differences between the screenplay and the completed film. At the start of the story's second act, beginning one year after the couple's marriage, the film inserts a scene not in the screenplay where the bride, Marge, composes a letter to her mother complaining about her husband's strangeness. Some of the dialogue has been trimmed. For example, in the scene between Bill and Sam described above, there is some dialogue — not in the completed film — where Sam notes Bill's utter failure in his earthly profession as an insurance salesman: "You haven't sold a policy in the last year …. Matter of fact, you haven't even tried to sell one." 
Robin Wood (American Nightmare) once observed that the difference between a "reactionary" horror film and a "progressive" one is the degree of sympathy the film engenders for its monster. In the reactionary horror film, the monster — always a metaphor for a minority or someone different — is utterly loathsome. In the progressive horror film, we feel for the monster. I MARRIED A MONSTER FROM SPACE falls into the progressive category, because we feel sympathy for the possessed Bill, an alien refugee from a world where all the women have perished, because he is at least trying to be human, trying to understand concepts like love, and actually has fallen in love with Marge to some degree before he is destroyed.
Vittes' screenplay, particularly as realized on-screen, is genuinely scary (the flashes of lightning that reveal the alien face behind the human one), as anyone who saw it as a youngster can attest. Some have identified I MARRIED A MONSTER FROM SPACE as a proto-feminist film in the way it so closely aligns with its female protagonist's point of view, a woman who is intelligent and actively responds to her dilemma. It is she who gathers a posse of real men to defeat the alien invaders. However, in a truly feminist film, the posse she gathered would have been female. 
Out of stock
Share With Friends: