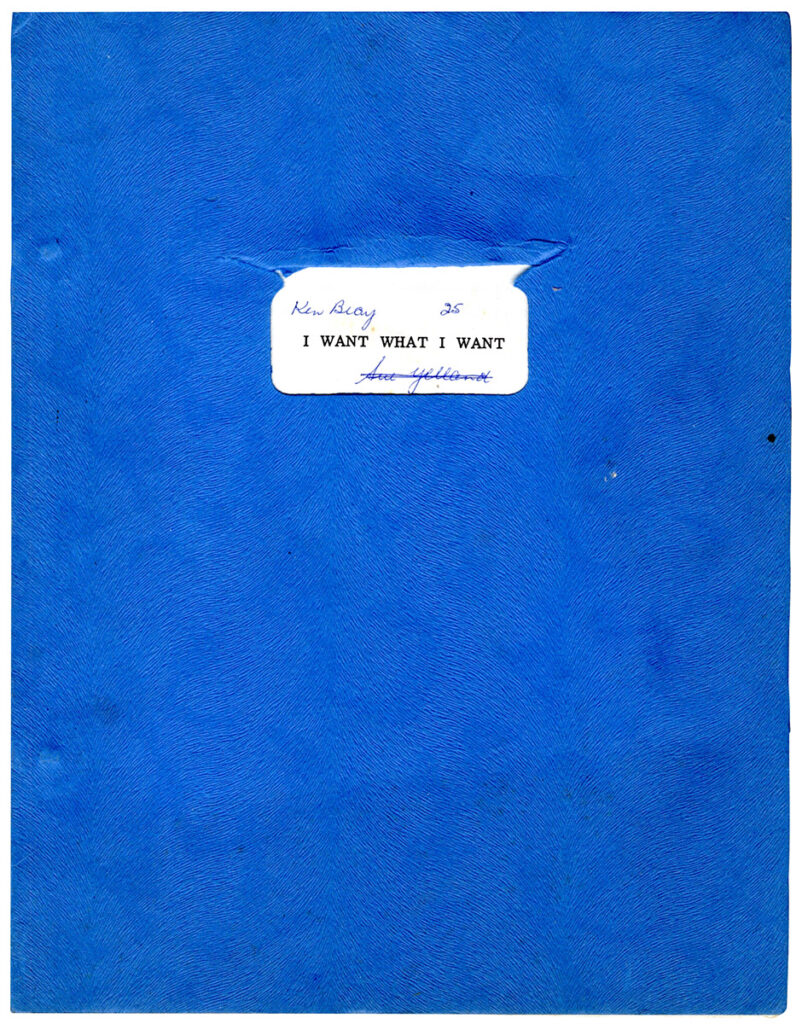 I WANT WHAT I WANT (Apr, Jun 1970) Screenplay archive
Sold
Both the script and the breakdown were the property of Ken Bray, who was still photographer for this film.
Screenplay by Gillian Freeman. Adapted From the Novel by Geoff Brown, April 28, 1970. [London]; Marayan Productions Ltd, 1970. Plain wrappers with die cut window displaying title, 11 x 8 5/8″, mimeograph, brad bound, 113 pp. Minor wear to die cut window, just about fine.
Breakdown 29th June, 1970. Twickenham: Twickenham Studios, 1970. Printed wrappers, bound with a metal clasp, 13 x 8″, 45 pp., with a 3 pp. supplement REPORT ON LOCATIONS AND FACILITIES. Contains a detailed summary of locations, characters and extras required for each scene, construction requirements, and special requirements for each scene. There is modest wear to blank margins, and slight scattered creasing, generally near fine.
I WANT WHAT I WANT is an early entry in trans cinema. It was produced by Raymond Stross and starred his wife, Anne Heywood. It is a film about a young British man who feels trapped in his male body and begins a journey toward sexual self-actualization, which segues from cross-dressing to eventual surgery. 
Producer Ramond Stross had previously created two other films important in LGBTQ film history: THE LEATHER BOYS (1964), also with a screenplay by Gillian Freeman, and THE FOX (1968), in which Heywood also starred. 
The film has a positive reputation. For example, here are comments from a Midwestern website which serves the trans community:
"A surprisingly touching, respectful, and accurate fictional portrayal of the coming out of a transgender woman in England in the early 1970s. This film avoids nearly all of the 'transploitation' themes of most works up to the 2000s and is a 'must see' for anyone interested in a transgender coming out story…
"This film, based on a 1966 novel by Geoff Brown, is the portrayal of the coming out of a transgender woman named Wendy in England, focusing on her relationship with her family and her process of learning on her own how to live as a woman. The film begins with our protagonist, who is initially named Roy and presenting as a male, watching women on the street outside the estate agent's office [US: realtor's] where he works. Roy, played by Anne Heywood, presents as a very feminine-looking person when dressed male, which is one of the few criticisms I have of the film — a cisgender woman was cast as the part of Roy/Wendy, which we must remember is a product of the time the film was made (and of course, as of this writing it's still a problem we live with, as cisgender people keep trying to speak in place of us to grab the public relations limelight)…
"The film is surprising in its sensitivity, avoidance of common tropes, and realism — especially for a film released in 1972. It covers the themes of family rejection, inability to find work, ostracism and loneliness, uncaring medical practitioners, and even sexual assault." <https://transascity.org/movie-review-i-want-what-i-want-1972/>
Out of stock
Share With Friends: