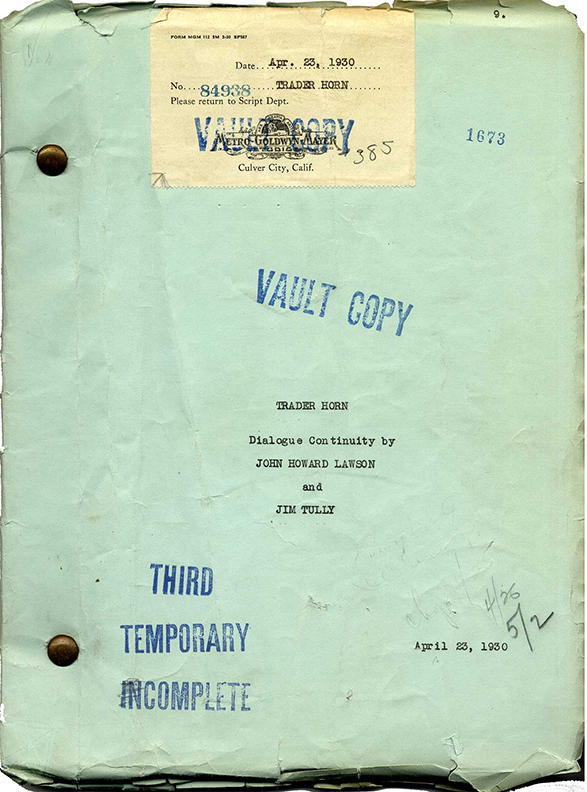 TRADER HORN (1931) Dialogue Continuity Third Temporary film script dated Apr 23, 1930
Sold
John Howard Lawson, Jim Tully (screenwriters) Culver City: MGM, April 23, 1930. Quarto, printed and stenciled studio wrappers, brad bound, carbon onionskin typescript, no pagination (approximately 120 pp.). Much creasing to covers, with wear to yapped edges, a number of pages have MS. notes in pencil which alter the assigned shot numbers. NEAR FINE in GOOD+ covers.
TRADER HORN remains a very famous early talking and pre-Code film about an African expedition in which the protagonists encounter a mysterious jungle princess. The film had a long and complicated production history. It was the first fictional movie to be shot in Africa. Halfway through its production, it was decided to shoot it as a talking film — but the crew was unable to produce audio of good quality, so the sound sequences had to be subsequently done all over again later on the MGM lot.
And, as was typical for big studio films, MGM assigned different writers to work simultaneously on the script. Ultimately, the film's screenplay was credited to Richard Schayer, Dale Van Every, and John Thomas Neville.
John Howard Lawson (1894-1977) was originally born John Howard Levy into an affluent Jewish family in New York City. After an early career as a playwright, he moved to Hollywood in 1928, and spent some time at MGM, where he cowrote this script. In 1933, he (along with Lester Cole and Samuel Ornitz, both of whom were eventually also members of the Hollywood Ten) helped to organize the Screen Writers Guild, of which he became the first president. Lawson was fired from MGM in 1933. He went on to join the Communist Party in 1934.
He continued to alternate work for the stage, movie screenplays (including BLOCKADE, about the Spanish Civil War), and left-wing activities. While traveling in the South, he observed the struggles of workers to organize, despite violent oppression, in Alabama and Georgia, He sent back various articles about their plight to the Daily Worker, and he was frequently arrested while there. Eventually, he was hauled before the House Unamerican Activities Committee in 1947, and spent a year in prison for his refusal to "name names" before that committee.
Out of stock
Share With Friends: