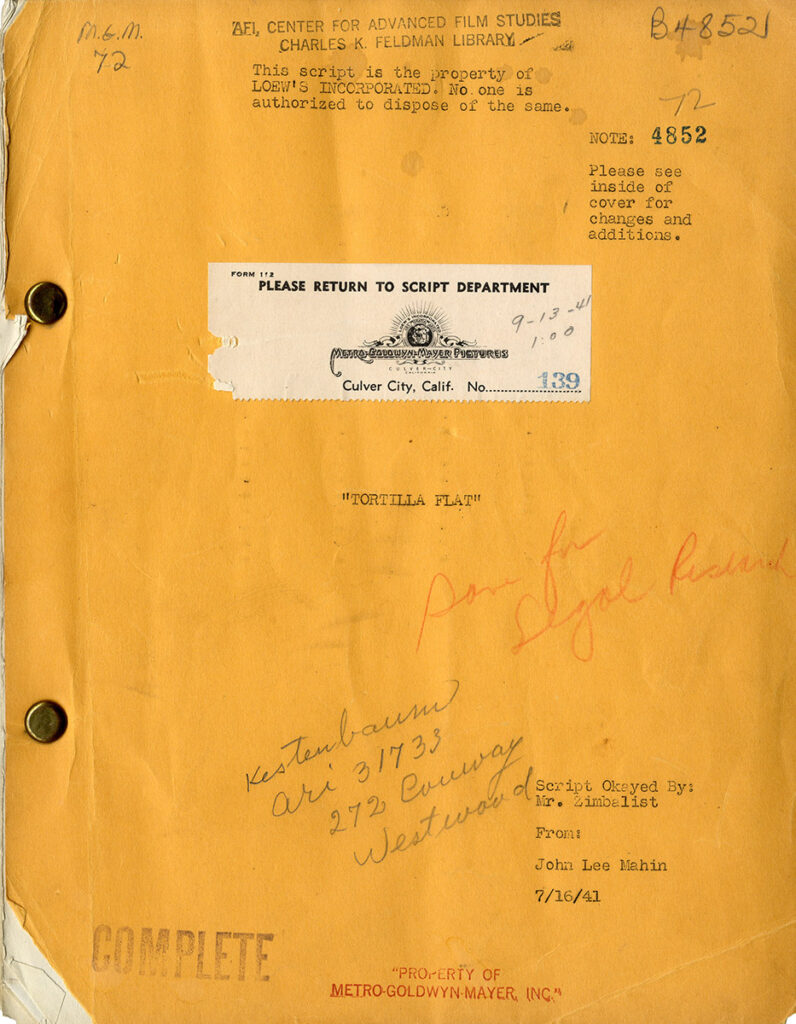 John Steinbeck (source) TORTILLA FLAT (Jul 16, 1941) Film script by John Lee Mahin
Sold
[Hollywood]: MGM, 1941. Vintage original film script, 11 x 8.5″ (28 x 22 cm.), goldenrod studio wrappers, noted as COMPLETE, rubber-stamped copy No. 139 and production No. 4852, dated 7/16/41, with credits for screenwriter John Lee Mahin and producer Sam Zimbalist. Title page present, dated 7/16/41. 131 leaves, mimeograph, with white revision pages throughout, dated 7-18-41. Brad bound, holograph notations in pencil and red pencil to the front wrapper. Black rubber stamp to the title reads: "AFI CENTER FOR ADVANCED FILM STUDIES / CHARLES K. FELDMAN LIBRARY". Pages fine, wrapper very good+.
John Steinbeck was born in Salinas, California, on February 27, 1902. His first novel, CUP OF GOLD, was published in 1929. TORTILLA FLAT, published in 1935, was his first major critical and commercial success, based on Steinbeck's own experiences and the stories he heard growing up in the Salinas/Monterey area. It was followed by his best known works, OF MICE AND MEN in 1937, and THE GRAPES OF WRATH in 1939, which earned him a Pulitzer Prize. EAST OF EDEN, published in 1952, was another major work set in the Monterey area. He was awarded the Nobel Prize in Literature in 1962.
Steinbeck's 1935 novel is about a group of "paesanos" (Mexican-Americans) who live in the Tortilla Flat area of Monterey Bay. The three main characters, Pilon, Danny Alvarez, and Pablo (played in the film, respectively, by Spencer Tracy, John Garfield, and Akim Tamiroff) are all veterans of the First World War, but now, in the early 1920s, they no longer have jobs and live happily, drinking wine and singing songs, under the stars. The novel is essentially a series of quixotic episodes, structured around the inheritance by Danny from his "viejo" (grandfather) of two houses that Danny will come to share with his homeless friends. For Steinbeck, a socialist, property was a burden and a curse. One of the houses Danny inherits burns down almost immediately after his friends move into it. In the novel's final chapters, Danny, driven mad by the burden of ownership, falls off a cliff to his death, and his friends watch in approval as the other house burns to the ground.
Director, Victor Fleming, and screenwriters, John Lee Mahin and Benjamin Glazer, chose to emphasize the comic and romantic aspects of Steinbeck's novel in their vivid adaptation of it, and to provide the movie with a redemptive happy ending, while remaining true to the novel's characters and spirit of comradeship. Victor Fleming, remembered today for his direction of GONE WITH THE WIND and THE WIZARD OF OZ (both 1939), brought to the films he made a distinctive vitality and narrative drive. Fleming had worked with star Spencer Tracy in three films (CAPTAINS COURAGEOUS, TEST PILOT, DR. JEKYLL AND MR. HYDE) before directing him in TORTILLA FLAT. Carried over from THE WIZARD OF OZ into TORTILLA FLAT were Frank Morgan (Oz's Wizard) as Pirate, a simple-minded woodcutter, and Terry (Oz's Toto) as one of Pirate's five dogs.
A consummate Hollywood professional, John Lee Mahin (1902-1984) was director Victor Fleming's favorite screenwriter, starting with THE WET PARADE (1932), followed by RED DUST (1932), BOMBSHELL (1933), TREASURE ISLAND (1934), CAPTAINS COURAGEOUS (1937), TEST PILOT (1938, uncredited), THE WIZARD OF OZ (1939, uncredited), and DR. JEKYLL AND MR. HYDE (1941). Mahin is the only screenwriter whose name appears on this copy of the July 16, 1941 TORTILLA FLAT screenplay, however, the movie gives a co-screenwriting credit to Benjamin Glazer (1887-1956), whose many writing credits include FLESH AND THE DEVIL (1926), MATA HARI (1931), A FAREWELL TO ARMS (1932), and SONG OF MY HEART (1948), which he also directed. Glazer was also known for translating Ferenc Molnár's play LILIOM into English, filmed by Frank Borzage as LILIOM in 1931, and by Henry King as the Rodgers and Hammerstein musical CAROUSEL in 1956.
Mahin's July 16, 1941, script begins with a beautifully written forward:
The locale of this picture is Monterey in Northern California. The town sits on the slope of a hill with a blue bay below it and with a forest of dark, tall pine trees above. Here where the forest and the town intermingle, where the streets are innocent of asphalt and the corners free of street lights, is Tortilla Flat.
These people, as Mr. Steinbeck sums them up, are 'good people of laughter and kindness, of honest lusts and direct eyes, of courtesy beyond politeness…
followed by a detailed description of each of the characters.
Where Steinbeck's novel is episodic, the screenplay provides the characters with a strong narrative arc. For example, the character of Dolores "Sweets" Ramirez (Hedy Lamarr) who mainly appears in only one chapter of the novel becomes the love interest of Danny (Garfield) throughout the entire film, and their turbulent relationship culminates in marriage. The story's religious angle — Pirate is saving money to purchase a gold candlestick to dedicate to St. Francis who he believes saved the life of one of his dogs — though viewed with affectionate skepticism by Steinbeck, is taken seriously by the filmmakers. When Danny is gravely injured by a machine at the cannery where Dolores works, Pilon (Tracy) prays to St. Francis for his recovery, and though he has previously avoided labor at all costs, gets a job so that he too can buy a gold candlestick to dedicate to the saint. When Danny miraculously survives (rather than dying as he does in the book), the local priest wisely suggests that Pilon instead use what he has earned to buy Danny a fishing boat so the young man can make a living for Dolores and himself This is an entertaining and highly readable screenplay, and Fleming's film, aside from a few minor cuts, is quite faithful to it 
Out of stock
Share With Friends: