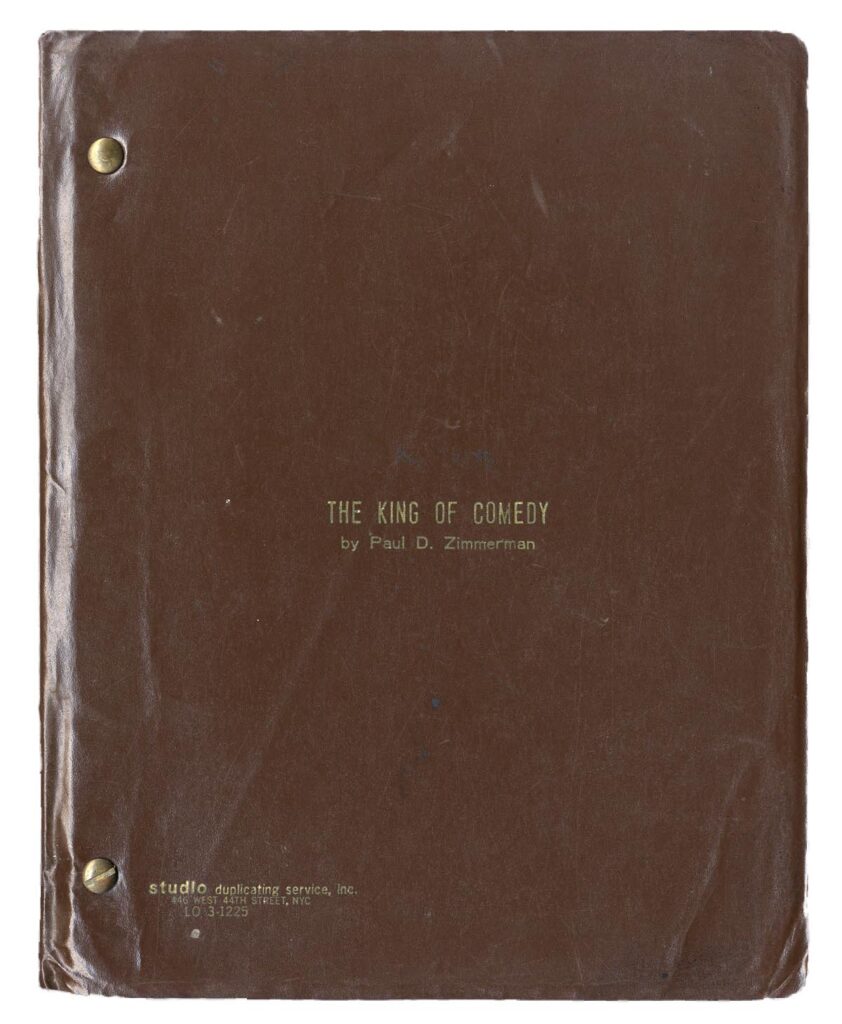 KING OF COMEDY, THE (1983) Final draft script by Paul D. Zimmerman, ca. 1981
Sold
Les Lazarowitz (sound mixer) (Original vintage screenplay for the 1983 film) Los Angeles, CA: Twentieth Century-Fox, ca. 1981.
Final Draft script for the 1983 film. Copy belonging to sound mixer Les Lazarowitz, with his holograph name to the title page. Noted as copy No. 78 in green holograph ink at the top right corner of same.
Perhaps Scorsese's most underrated film, The King of Comedy is a brilliant study of celebrity worship and American media culture by way of an exploratory journey into the mind of Rupert Pupkin, a man totally lacking in self-awareness, driven only by obsession. The titular character is played by Robert De Niro, cast completely against type, in furious pursuit of his idol, Jerry Lewis (Lewis playing a character named Jerry Langford in the film), along with the genius addition of Sandra Bernhard as De Niro's crazed groupie assistant.
Joyce Millman of Salon called The King of Comedy "Martin Scorsese's second least popular movie, after The Last Temptation of Christ. Which is a shame, because it's Scorsese's second greatest film, after Taxi Driver." Set and shot on location in and around New York. And, actually, this film is not so distant a cousin to Taxi Driver; in both films, De Niro goes on a journey of obsessiveness, leading to virtual madness, and then, somehow, survives.
Brown studio wrappers, with credits for screenwriter Zimmerman. Title page present, noted as FINAL DRAFT, with credits for screenwriter Zimmerman. 105 leaves, mimeograph.
Collation: [Note: holograph notation pencil and black and green ink as indicated.] [title, notation], 1-68, 70-105.
Pages VERY GOOD +, wrapper VERY GOOD + bound with two gold screw brads.
Out of stock
Share With Friends: