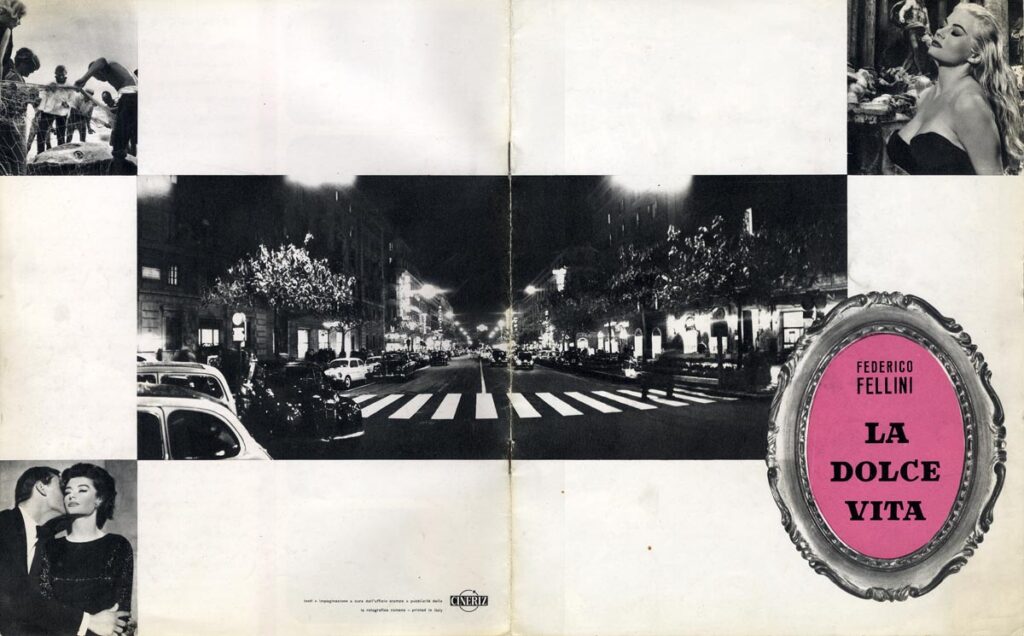 LA DOLCE VITA (1960) Italian program
Sold
Vintage original 10 x 12;" (26 x 31 cm.) program; illustrated, saddle-stitched card wrappers, Italy. Rome: Riama Film, 1960. A striking and rare first-run program for what can easily be described as Fellini's most pivotal film, if not his finest. Unlike the more sentimental and abstract films that would follow, La Dolce Vita is an unflinching seven-day journey through 1960s Rome, with Mastroianni, a jaded journalist at the center of the story, constantly surrounded by revelry, beautiful women and a beautiful city, but no semblance of happiness or love.
This deluxe program reflects Fellini's use of stark black-and-white throughout the film, with nights that are noirish and daytime sequences that are blindingly, uncomfortably bright. Throughout are lonely women, photographers, crowds, clubs, parties and general debauchery, with Mastroianni coming close enough to his humanity to touch it, but unable to do so. Especially rare to find an original Italian promotional book for this seminal Italian film.
NEAR FINE with a couple of tiny stains.
Out of stock
Share With Friends: