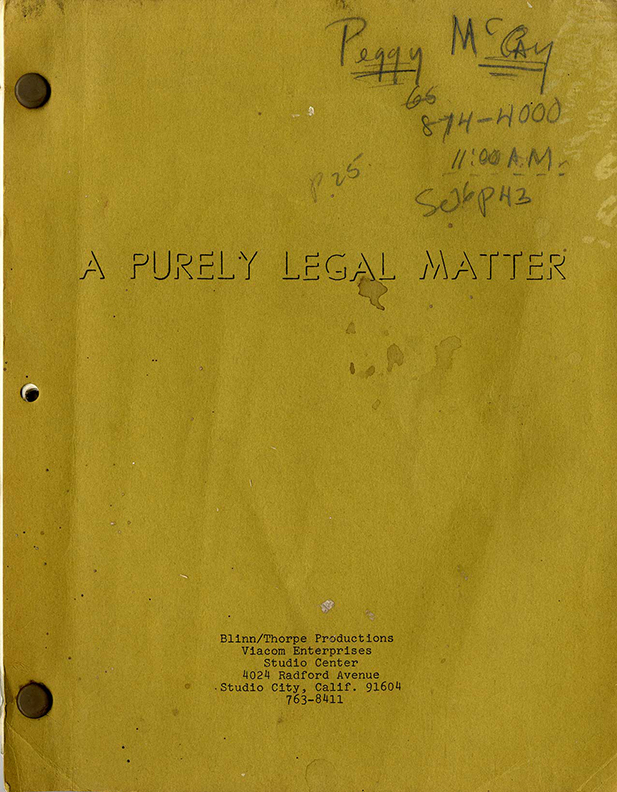 (LGBTQ cinema) A QUESTION OF LOVE SECOND REVISED FINAL DRAFT
Sold
Written by William Blinn  Vintage original film script [under working title A PURELY LEGAL MATTER]  Studio City, California: Blinn/Thorpe Productions/Viacom Enterprises, May 4, 1978.  Quarto, printed wrappers, brad bound, mimeograph, 116 pp.  The name of actress Peggy McCay is written on front cover, along with a few notes, in pencil, though she does not appear to have been involved in the film.  Front cover lightly stained, overall near fine in vg+ wrappers.
There was a handful of made-for-television feature films in the 1970's.  This appears to have been the first such film focused on lesbian characters.  Two women, one of whom is previously divorced and has moved in with her two sons.  When her former husband learns that she is a lesbian, a trial follows in which he sues for sole custody of his sons.
Parish 196: "Focuses on two female lovers struggling to maintain their mutual love and self-respect in an atmosphere of bigotry.  What makes this fact-based drama exceptional, above and beyond its strong acting, is its straight-forward presentation of the subjects' lifestyle."  This was still very unfamiliar terrain for 1970's American television.  Alderson, p. 79.  Russo, p. 224.
Out of stock
Share With Friends: