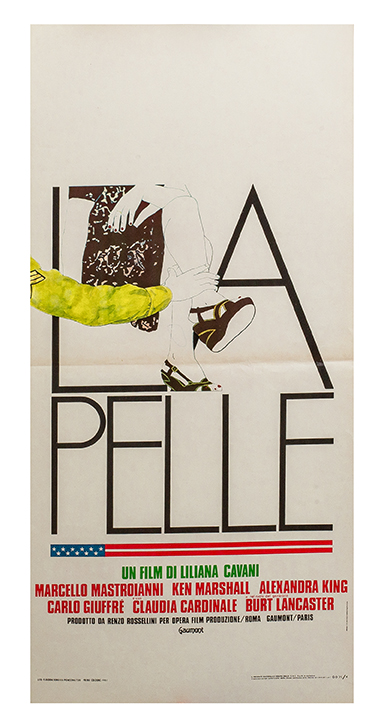 LILIANA CAVANI (1968-89) Collection
Sold
Italian director Liliana Cavani was one of a number of women directors who came to international prominence in the 1970s. Her body of work is remarkably eclectic, with films about Galileo, Nietzche, Francis of Assisi, but also including films about transgressive sexuality. Her films are clearly shaped by her perspective as a lesbian and a feminist.
There are scattered small marginal tears to posters, folded once (as issued), light signs of handling to booklets and photos, overall NEAR FINE. The collection contains 7 posters, 2 booklets, and 5 photos, making for a total of 14 pieces.
— GALILEO (1968) Italian 27 x 13″ (69 x 33 cm.) poster.
— IL PORTIERE DI NOTTE [THE NIGHT PORTER] (1974) Italian 27 x 13″ (69 x 33 cm.) poster. Cavani's international breakthrough film, about the transgressive, sadomasochistic relationship that develops between a former concentration camp victim and her tormentor, who was once a camp guard.
— AL DI LA DEL BENE E DEL MALE [BEYOND GOOD AND EVIL] (1977) Italian 27 x 13″ (69 x 33 cm.) poster. Film about the intense relationship between Nietzche, author Paul Ree, and Russian feminist and writer Lou Andreas-Salome.
— PELLE [THE SKIN] (1981) Italian 27 x 13″ (69 x 33 cm.) poster; 1 7 x 9 "( 19 x 23 cm.) French photo of Cavani directing.
— OLTRE LA PORTA [BEYOND THE DOOR] (1982) Italian 27 x 13″ (69 x 33 cm.) poster; Italian promotional booklet in English for global distribution, quarto, 6 pp.; 4 French photos, approximately 9 x 6″ (23 x 15 cm.). A typically transgressive film, set in North Africa, about a young woman who is having an affair with an oil rigger while still involved in an intimate relationship with her stepfather. The film, like so many of Cavani's films, is now of renewed interest because it reflects a woman's perspective on sexuality, which is very intensely on display.
— INTERNO BERLINESE [BERLIN AFFAIR] (1985) Italian 27 x 13″ (69 x 33 cm.) poster; French promotional booklet, quarto, 27 pp.
— FRANCESCO (1989) Italian 27 x 13" poster.
Out of stock
Share With Friends: