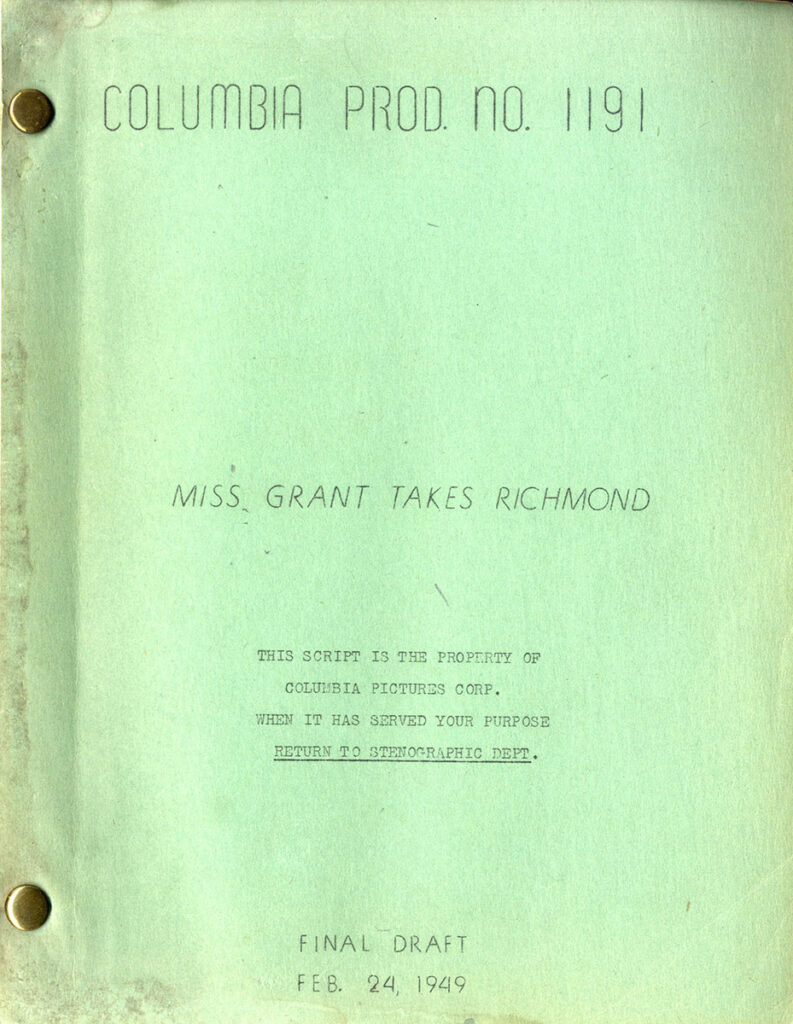 MISS GRANT TAKES RICHMOND (Feb 24, 1949) Final draft screenplay by Frank Tashlin, Nat Perrin
Sold
MISS GRANT TAKES RICHMOND (Feb 24, 1949) Final draft screenplay by Frank Tashlin, Nat Perrin, Lucille Ball (actor) Frank Tashlin, Nat Perrin (screenwriters) [Hollywood]: Columbia Pictures, 1949. Vintage original film script, printed wrappers, 11 x 8 ½" (28 x 21 cm.), 149 pp., brad bound, mimeograph, with various pages of revisions on colored paper dated up through March 4, 1949, with one 2 pp. call sheet laid in. Title labeled on lower spine., slight stains to wrappers, overall very good+.
MISS GRANT TAKES RICHMOND is a comedy film starring Lucille Ball and William Holden, and co-written by Frank Tashlin, who was about to emerge as a major mid-century comedy director. This is one of a group of films which Ball made after leaving MGM (a studio which had no idea what to do with her) and signing up at Columbia, where her comic talents shone brightly, in the transition period of her career before I LOVE LUCY began to air.
For Ellen Grant (Ball), the worst student at the Woodruff Secretarial School, it comes as a great surprise when Dick Richmond (Holden) hires her to work at his realty company. Actually, it is her apparent empty-headedness that has won her the job. The real estate firm, and now Ellen, are merely fronts for a bookmaking operation run from the back of the office, where Dick and his associates, Gleason and Kilcoyne, take bets on races.
Out of stock
Share With Friends: