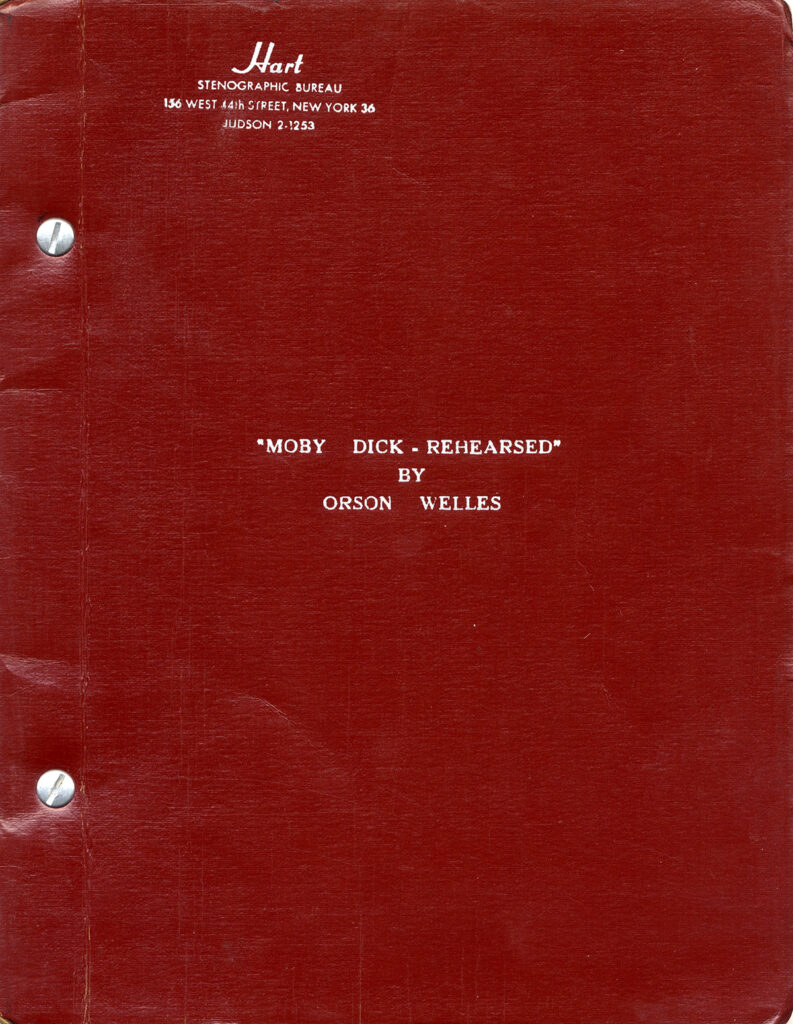 MOBY DICK—Rehearsed (1962) Theater script by Orson Welles
Sold
Herman Melville (source) New York: Jerry Adler-Samuel Liff Productions, [1962]. Vintage original theater script, printed leatherette covers, 11 x 8 1/2″ (28 x 22 cm.), 45, 37 pp. Moderate creasing to covers, brad bound, mimeograph, near fine in very good or better binding.
A two-act drama by Orson Welles, originally staged in London in 1955, and then staged by him for its American premiere on Broadway.
Welles used minimal stage design. The stage was bare, the actors appeared in contemporary street clothes, and the props were minimal. For example, brooms were used for oars, and a stick was used for a telescope. The actors provided the action, and the audience's imagination provided the ocean, costumes, and the whale. The setting is a mid-19th-century American repertory theater. The play begins subtly as the audience arrives with the cast milling around an empty stage. The cast members generally fool around and complain about their boss and their forthcoming production of King Lear.
Then, making a big dramatic entrance and smoking a cigar, the actor manager of the time comes on stage and tells them they are going to rehearse a version of Herman Melville's 1851 novel Moby Dick that he has been adapting for the stage. The cast grudgingly performs the play, improvising scenery from items lying around, and gradually get more into character as the play develops.
Out of stock
Share With Friends: