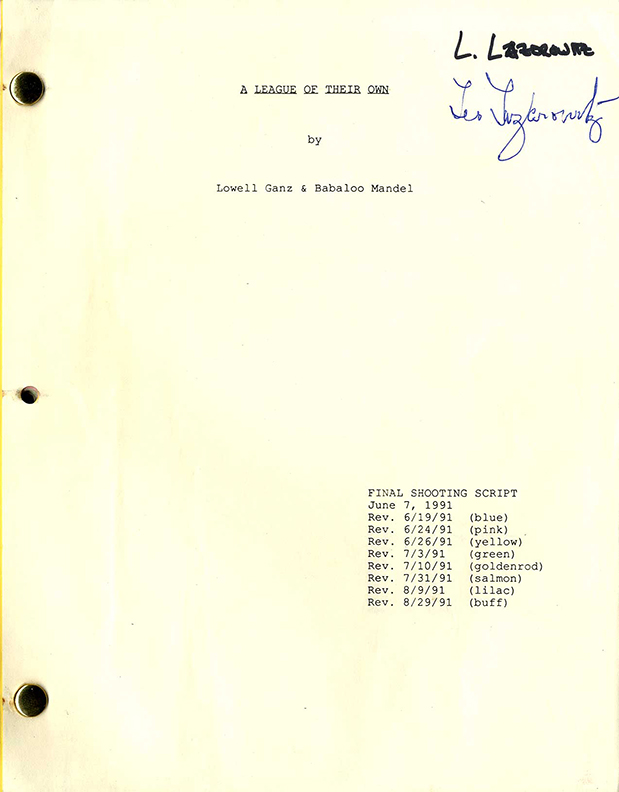 LEAGUE OF THEIR OWN, A (1992) Film script and autographed baseball
Sold
Penny Marshall (director) Vintage original Final Shooting film script, USA. [Hollywood: Columbia Pictures / Parkway Productions], 7 June – 29 August 1991. [4], 123 leaves, expanded by lettered inserts. Quarto, printed on white and eight other colored stocks. Brad bound. Last several leaves show tidemarks along lower margins and gutters, with a trace of faint rippling continuing on into a few more leaves, two ink names (see below), generally VERY GOOD+.
Films focusing on the reality of women's lives were extremely uncommon in the boys club that was 1990s Hollywood. This famous movie, about the World War II women's baseball league, and directed by Penny Marshall (at the time the one Hollywood woman director then making big box-office films) was an important outlier.
A heavily revised "Final Shooting Script" with eight stages of substantial dated revises beyond that draft (i.e. a "rainbow" script). Lowell Ganz and Babaloo Mandel's adaptation to the screen of a story by Kim Wilson and Kelly Candaele based on the experiences some of the players in the All-American Girls Baseball League during the years of WWII. Penny Marshall directed the highly successful film with a large ensemble cast that included Tom Hanks, Gena Davis, Madonna and Rosie O'Donnell.
This script bears the ownership signature of Les Lazarowitz, the production sound mixer, as well as his name in block print (presumably as part of script distribution) and a few relevant annotations in the text.
The script is accompanied by a black leather-covered baseball, signed in gold ink by a number of cast and production members, including Tom Hanks, Madonna, Gena Davis, Penny Marshall, Rosie O'Donnell, Robin Knight, Tracy Reiner, Janet Jones Gretzky, Pepper Pairie (one of the original league players) and Neezer Tarleton. The baseball is attended by a handwritten and signed attestation by Les Lazarowitz about his obtaining the signatures during the film's production.
Out of stock
Share With Friends: