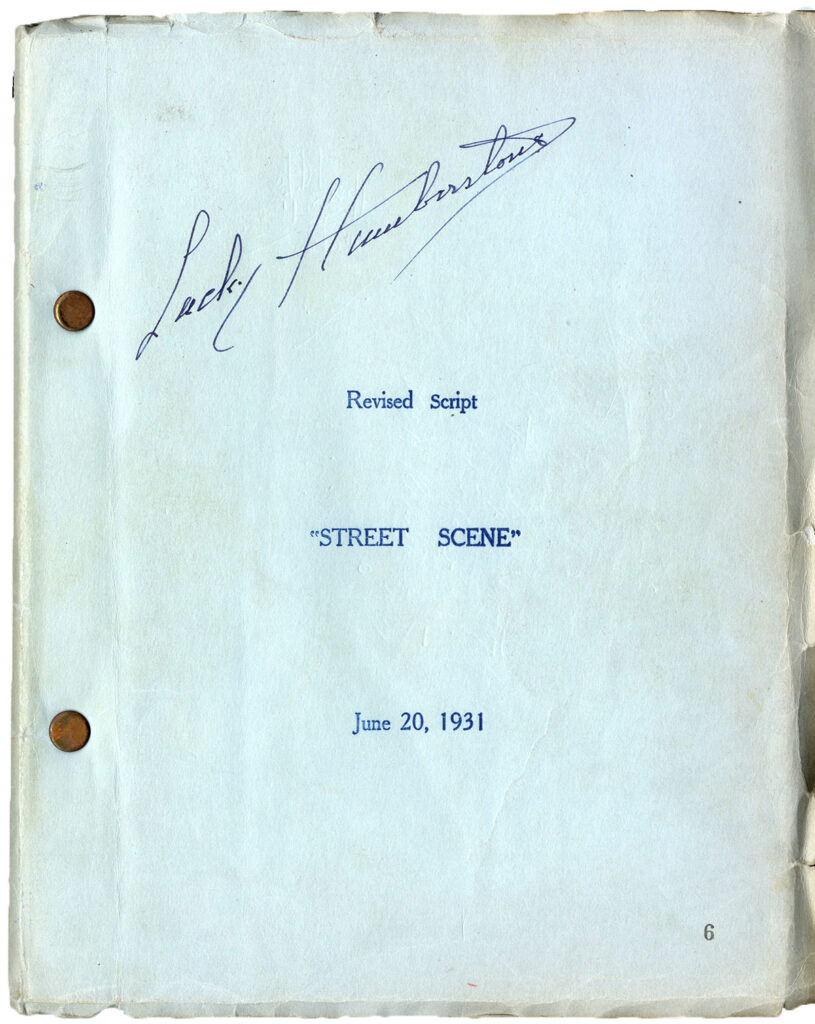 STREET SCENE (Jun 20, 1931) Revised film script by Elmer Rice
$

850.00
Elmer Rice (source, screenwriter), King Vidor (director) [Hollywood: Samuel Goldwyn Productions], 1931. Vintage original film script, USA. Quarto, brad bound, printed wrappers, mimeograph, 146 pp., moderate fraying of edges of yapped covers, JUST ABOUT FINE in NEAR FINE wrappers. Signed on front wrapper by assistant director Bruce Humberstone, using his nickname "Lucky".
Elmer Rice won the Pulitzer Prize for his 1929 play about the interactions between an ethnically diverse group of poor residents of a tenement in Manhattan's Hell's Kitchen. Producer Sam Goldwyn rapidly obtained the film rights, and Rice adapted his play to the screen. STREET SCENE takes place in 24 hours on the stoop of an old brownstone apartment building during an intense heat wave. Sylvia Sidney starred as Rose. During this 24 hour interval, she has to deal with her father murdering her mother in a drunken rage, and with budding feelings of love for Sam, a young Jewish neighbor.
Vidor's direction is in no way restricted by the single set and the film's origins in a stage play — it is kinetic, with swooping camera movements when justified, and some beautifully staged crowd scenes at the time of the murder.
Share With Friends: