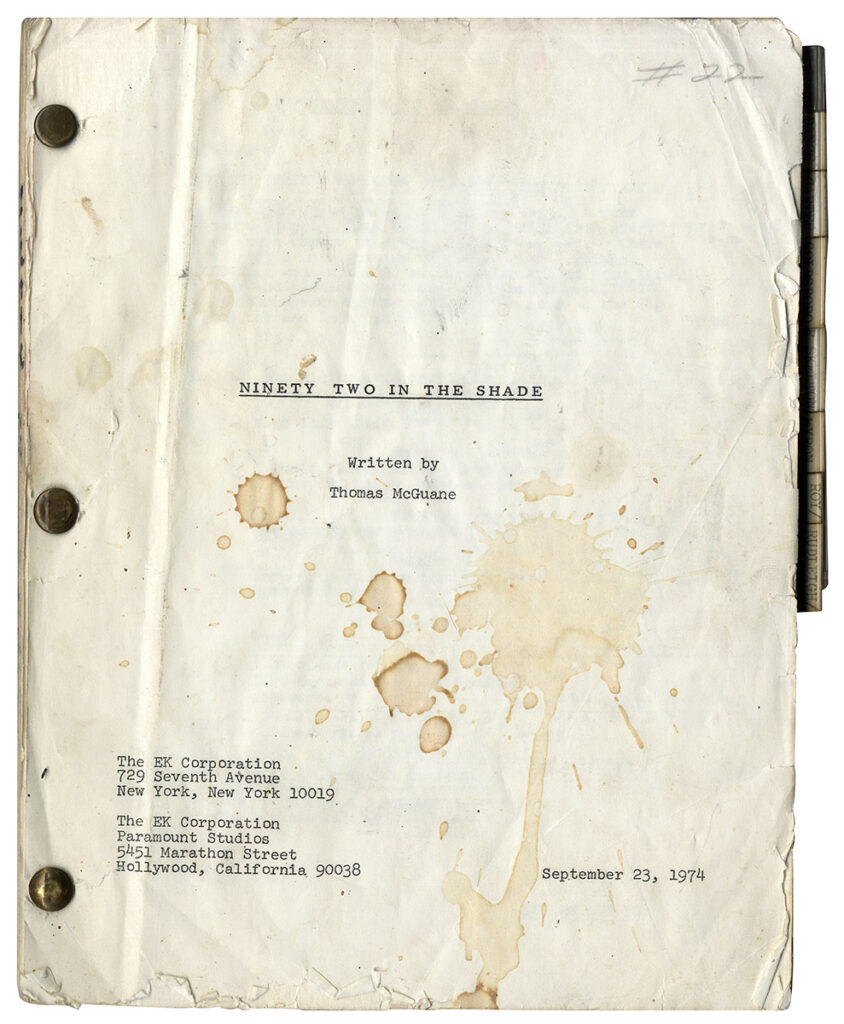 Thomas McGuane (screenwriter, director) 92 IN THE SHADE [NINETY TWO IN THE SHADE] (1974) Archive of 2 film scripts
$

1,850.00
New York: EK Corporation, 1974. Set of two vintage original film scripts, 11 x 8 1/2″ (28 x 22 cm.):
— Script, August 26, 1974. Studio Duplicating Service leatherette wrappers, brad bound, mimeograph, 118 pp. Front wrapper and title page detached but present, part of the spine is absent. Significant marginal staining to first twenty pages (getting less severe from page to page), the following 98 pages are just about fine. Overall, good+.
— Script, September 23, 1974. Self-wrappers, brad bound, mimeograph, 101 pp., title page stained and detached but present, generally very good. Very heavily annotated in an unknown hand by a crew member, presumably the script supervisor. There are pencil and ink annotations on virtually every verso page, and very extensive annotations on the rectos, including many revisions of the dialogue. There is a loosely laid in page of MS dialogue changes. Bound in are approximately 30 leaves of notes about wardrobe for the cast, some with MS notes, some with anywhere from one to three photos of the costumes tipped-in. This section has page tabs indicating each character for whom there are costume pages.
An archive for the only film directed by Thomas McGuane, consisting of two very different drafts of the script, one of them heavily annotated and with an archive of notes and photos of the film's wardrobe.
92 in the Shade is a 1975 American drama film written and directed by Thomas McGuane, based on his 1973 novel of the same name. It stars Peter Fonda, Warren Oates, Elizabeth Ashley and Margot Kidder. Tom Skelton, a young man, opens a charter fishing business in Key West, Florida. He enters into a rivalry with a local sea captain named Dance and his partner Carter, who steal one of the new fishing guide's clients. Skelton retaliates by burning Dance's boat.
The film is known for having two different versions, with different endings. One has a happy ending in which Dance and Skelton fight while they're in the boat and Dance's gun gets thrown in the water, and then they both agree to stop their fight and become friends, but the other version has a darker ending in which Dance shoots and kills Skelton. In the book Warren Oates: A Wild Life by Susan Compo, Peter Fonda said there was another third ending which was filmed, but which was never used in any version of the film: "We ended up shooting two (actually three) endings, one where we struggle for the gun, and we throw it in the water, and we end up hugging each other and laughing and laughing. And another one where he shoots me, and I die in the boat, and he gets out of the boat and walks ashore. And the third one, we both look at the gun, we throw the gun away, both of us get out of the boat and walk to shore." (Wikipedia)
Share With Friends: