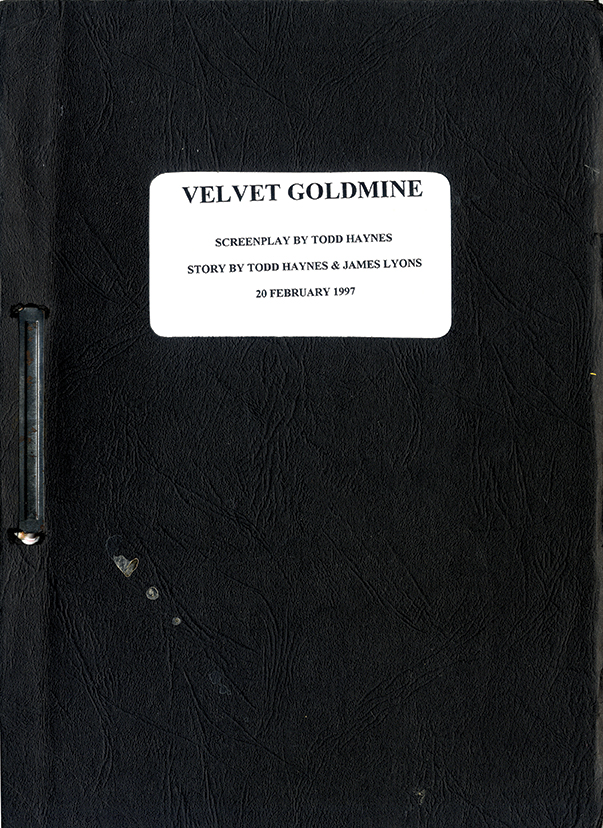 VELVET GOLDMINE (1998) Screenplay by Todd Haynes, Feb 20, 1997
Sold
Todd Haynes (screenwriter, director) [London: Channel Four Films]: 20 February 1997. Vintage original film script, quarto, With three revision pages laid in. Presumably the copy belonging to actor David Hoyle, who played Freddi in the film, with both copied and holograph annotations throughout (more of the latter) on both the recto and verso of the pages. 20 February 1997 and March 3, 1997. Pages NEAR FINE, wrapper NEAR FINE bound with silver prong binding.
An account of the glam rock days in the early 1970s in England as this film follow fictional rock star Brian Slade, and his admiration of American rocker Curt Wild, and their same-sex relationship which follows, all told through the perspective of a young gay British journalist. Nominated for an Academy Award.
Black untitled wrappers with a die-cut title window in the British style. Title page present, dated February 20, 1997, with credits for screenwriters Todd Haynes and James Lyons. 111 leaves, with last leaf of text numbered 108.
Photographically reproduced, first generation, without copied holes, with blue and pink revision pages throughout, dated variously between February 26 and March 3.
Out of stock
Share With Friends: