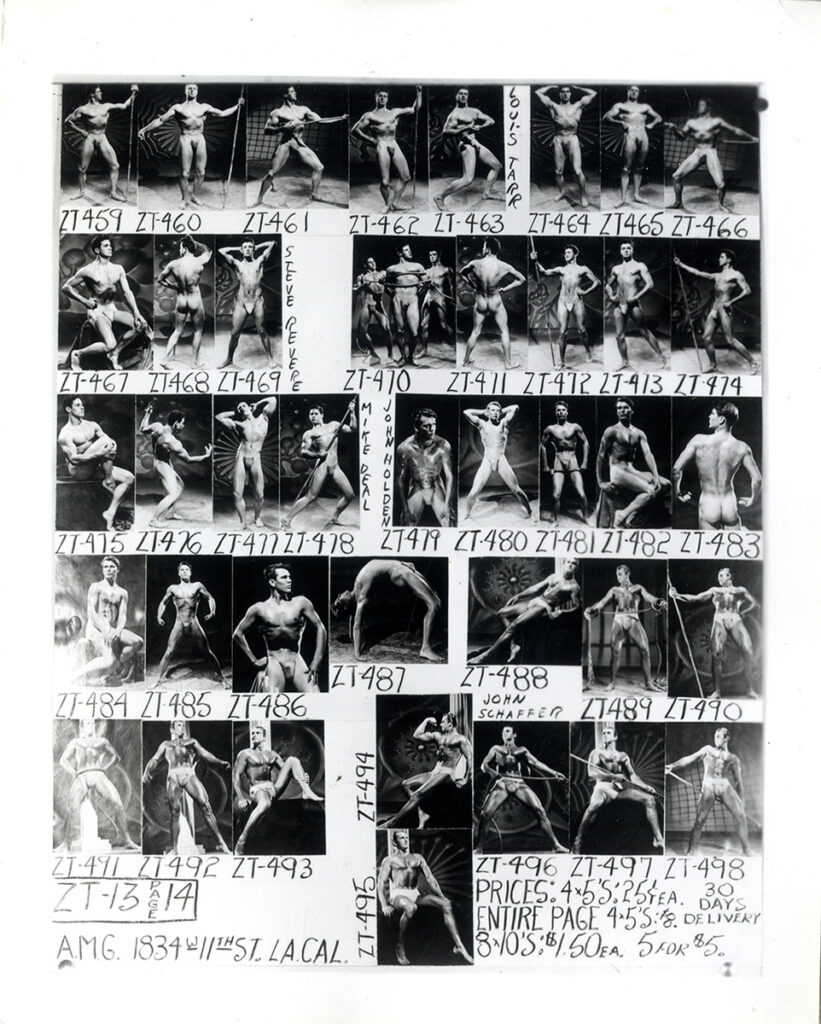 ATHLETIC MODEL GUILD (ca. 1950s) Photo archive
Sold
[Los Angeles]: Athletic Model Guild, [ca. 1950s]. Set of nine (9) 4 x 5″ (10 x 12.5 cm.) photo contact sheets, just about fine.
Archive of nine silver gelatin contact sheets, with each contact sheet containing 25-40 photos of male models photographed for the Athletic Model Guild (AMG) during the 1950s. These contact sheets functioned as both an index of models (each sheet has an alphanumeric index number) and a means of advertising photos that could be ordered (pricing and contact information are noted at the bottom of each sheet). 131 contact sheets are coded with "Y" followed by a numeric filing code, and 74 are coded with "Z" in the same fashion.
The Athletic Model Guild was founded by gay photographic pioneer Bob Mizer in December 1945. During the post-war years, censorship laws in the US allowed women — but not men — to appear in various states of undress in what were referred to, with a wink, as "art" photographs. Mizer took the approach of photographing men that he knew, both gay and straight. His subjects would often pose for pictures, which, while ostensibly meant to illustrate fitness tips and the like, were actually produced and published as homoerotic ephemera.
A majority of the early AMG photos were sexually ambiguous in nature. Mizer's formula was to offer both still and moving images of young men doing bodybuilding poses, or perhaps wrestling in pairs. Often the setup or "plot" of these shoots bordered on the absurd, present only to provide a thin legal pretext for the display of the male physique.
Mizer did appear in court several times over the years, facing charges that included obscenity, drug use and prostitution. Mizer's AMG models would allegedly sometimes make additional income by "renting" themselves out, but Mizer argued vigorously that it was "not his business what they did on their own time." Despite some legal setbacks, however, Mizer and AMG survived.
AMG-issued ephemera, sold in the form of photographic prints, magazines and short films, evolved slowly over time towards the explicit, from altered images where the male genitalia were "painted" over to photographic prints where the models wore extremely skimpy posing straps, then finally (as the evolving obscenity laws allowed) to full nudity. Mizer advertised his material by way of his magazine Physique Pictorial, noted for its early publication of the work of artists such as Tom of Finland. It is estimated that he shot over 10,000 men throughout the course of his career.
Out of stock
Share With Friends: