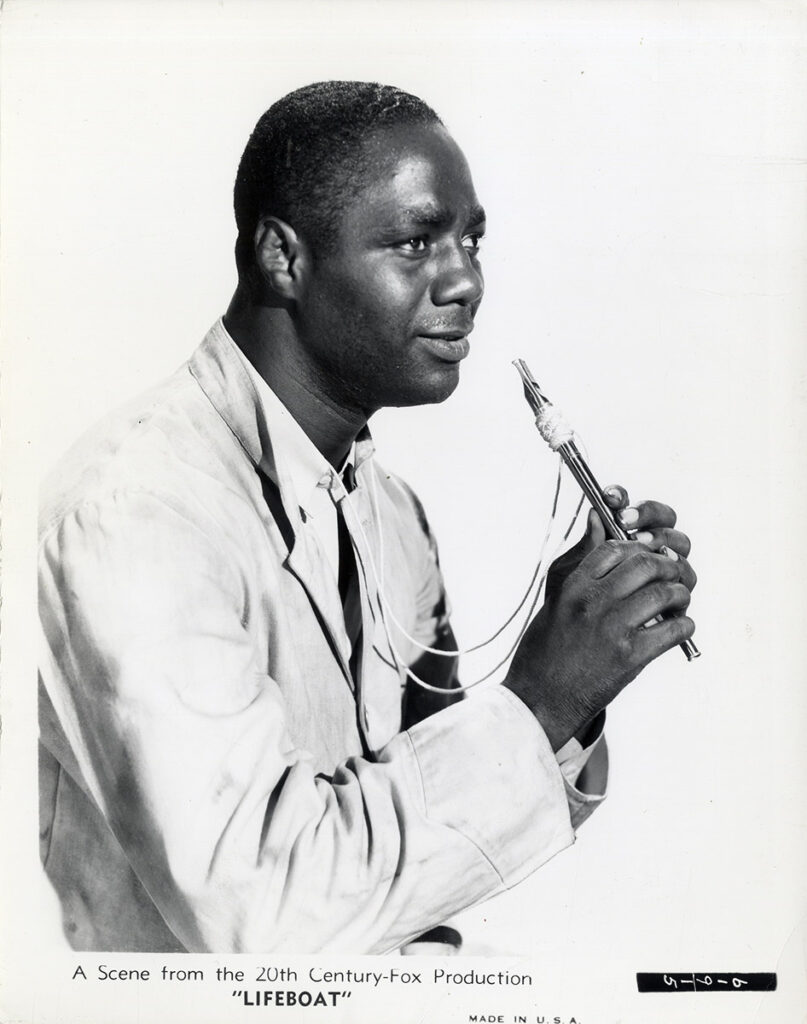 CANADA LEE | LIFEBOAT (1944) Photo
$

300.00
[Los Angeles]; Twentieth Century Fox, [1944]. Vintage original 10 x 8″ (25 x 20 cm.) black-and-white print still photo, fine.
A portrait of the distinguished African American actor. He was discovered by Orson Welles, who cast him in his famous WPA "Voodoo Macbeth" and subsequently cast Lee in the lead role of Bigger Thomas in the successful production of Richard Wright's Native Son on Broadway. In 1945, he appeared in an acclaimed production on Broadway as Caliban in Shakespeare's The Tempest. His career and life were cut short at the age of 45 in 1952.
Lee was an early influence on physician and human rights activist H. Jack Geiger. They met in 1940 when Geiger, a 14-year-old middle-class Jewish runaway, was backstage at a Broadway production of Native Son. Lee agreed to take Geiger in when he showed up at his door in Harlem asking for a place to stay. With the consent of his parents, Geiger stayed with Lee for over a year. Lee took on the role of surrogate father and introduced Geiger to Langston Hughes, Billy Strayhorn, Richard Wright, and Adam Clayton Powell. Geiger eventually became a journalist, then a doctor who co-founded the first community health center in the United States, Columbia Point Health Center in Dorchester, Massachusetts. He became a founder of Physicians for Social Responsibility and Physicians for Human Rights, and established community health centers in Mississippi and South Africa. Geiger says he would never have moved so deeply in these worlds so quickly if not for his experiences with Canada Lee.
By the late 1940s, the rising tide of anti-communism had made many of Lee's earlier contacts politically dangerous. In 1949, the trade journal Variety stated that under no circumstance was Lee to be used in American Tobacco's televised production of a radio play he had recently starred in because he was "too controversial".
The same year, the FBI offered to clear Lee's name if he would publicly call Paul Robeson a communist. Lee refused and responded by saying, "All you're trying to do is split my race." According to newspaper columnist Walter Winchell, Lee stated that he intended to come out and "publicly blast Paul Robeson." However, the fact that the friendship between the two actors remained until Lee's death suggests that Robeson put no faith in Winchell's claim.
At the height of the Hollywood blacklist, Lee managed to find work in 1950 as the star of the British film Cry, The Beloved Country, for which both he and Sidney Poitier were smuggled into South Africa as indentured servants in order to play their roles as African ministers. During filming, Lee had his first heart attack, and he never fully recovered his health. The film's message of universal brotherhood stands as Lee's final work towards this aim.
This portrait is of Lee in the role of Joe Spencer in Hitchcock's film, in which the survivors of a U-boat torpedoing their ship attempt to survive in a lifeboat.
Share With Friends: