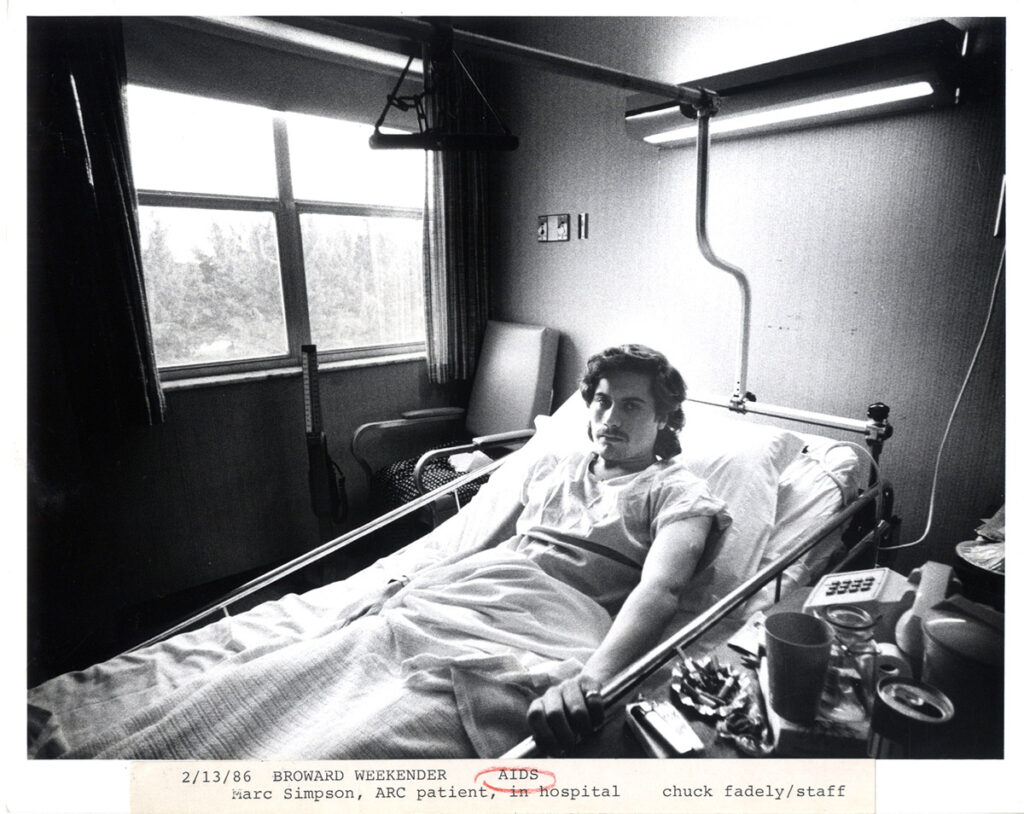 COLLECTION OF 31 SOUTH FLORIDA AIDS PRESS PHOTOS (1985-1993)
Sold
Broward County Florida: Miami Herald / Broward Weekender, 1985-1993. Set of thirty-one (31) black-and-white photographs measuring approximately 8 x 10″ (20 x 25 cm.), most with detailed captions. Generally very good+ or better.
A collection of press photographs related to AIDS patients and activists in South Florida. Most show evidence of use by the Miami Herald and/or the Broward Weekender and document awareness events, group homes and other facilities, as well as the patients themselves.
One photo shows Mark Landsfeld on his bicycle; in 1985 he cycled from Anchorage, Alaska, to Key West as a fundraiser for AIDS. A Damian Von Damico is shown training for a 100 mile run intended for the same purpose.
There's an image of a 1985 fundraising picnic for people with AIDS held at Snyder Park, and one great shot shows a group of African Americans marching in an AIDS awareness walk. Local leaders depicted include activist Bob Kunst speaking for a group called "Cure-Aids Now!" where he handed out condoms, as well as "AIDS Chaplain" Greg Tweed, visiting a man who would die two weeks later.
There are several more moving images of patients in hospital as well as one from 1987 showing patients and staff at Our House. Our House was an AIDS hospice in Broward County that was closed by city officials for violation of zoning regulations. Two photos relate to a special dental ward for AIDS patients including a shot of a dentist and his assistant putting on protective gear prior to working with a patient.
Two more relate to a program called "Victory House". Victory House was actually the Clayton Manor Apartment complex which was leased by a minister and a few others to provide unemployed AIDS victims an affordable place to live. It opened around 1987 and closed in 1990 when the rent could not be met.
A diverse collection which shares the early impact of HIV/AIDS on South Florida.
Out of stock
Share With Friends: