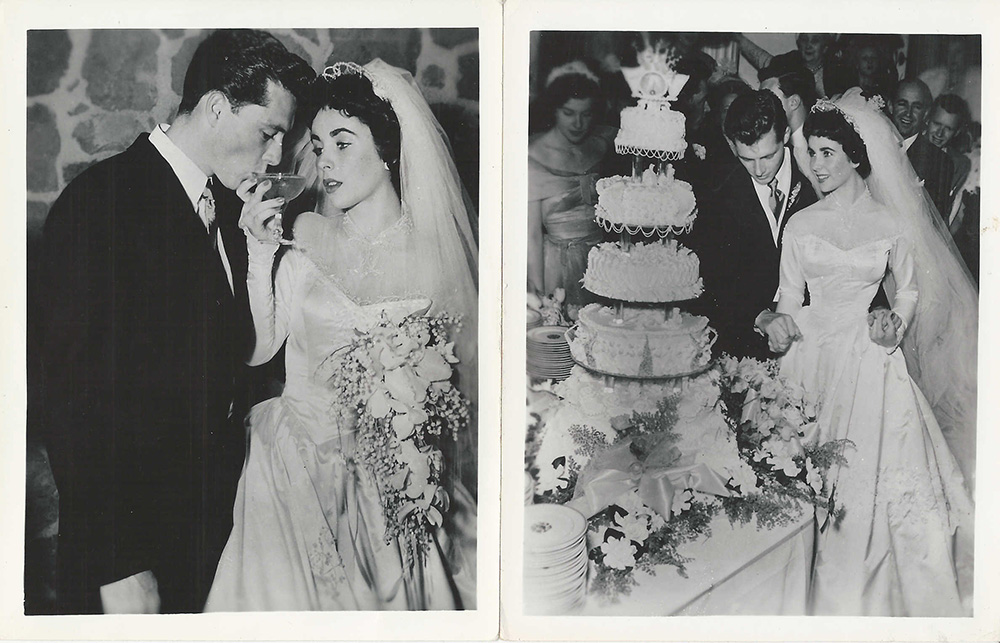 ELIZABETH TAYLOR MARRIES NICKY HILTON (1951) Set of 2 photos
Sold
Set of two (2) vintage original 4 x 5″ (10 x 12 cm.) black-and-white single weight glossy silver gelatin print still photos, USA. Pencil notations on verso, slight wear. About fine.
The iconic wedding gown which Helen Rose designed for Elizabeth Taylor for her first wedding lasted far longer than the marriage. It became the most requested bridal gown design throughout the decade and even today the basic gown is popular. At the time, she was most popular with movie audiences, wearing a similar gown for the MGM film Father of the Bride.  This dress with its 22-inch waist (let out at some point from the original 20-inches) sold a few years ago at auction at Christie's London.
Taylor was just 18 when she married Hilton, the first of her eight marriages. It lasted just 205 days with the 24 year-old Hilton. Though they had met each other in late-1949, they did not know each other well. Taylor divorced him on grounds of mental cruelty, and though his family was wealthy she refused alimony and took back her maiden name.
The wedding took place on May 6, 1950, at the Church of the Good Shepard in Beverly Hills. There were some 600 guests and, enjoying the publicity, MGM picked up the tab.
These two original news photos are ink stamped on the verso "For more of these pictures write WORLD WIDE, 63 Central Ave, Ossining, New York."
Out of stock
Share With Friends: