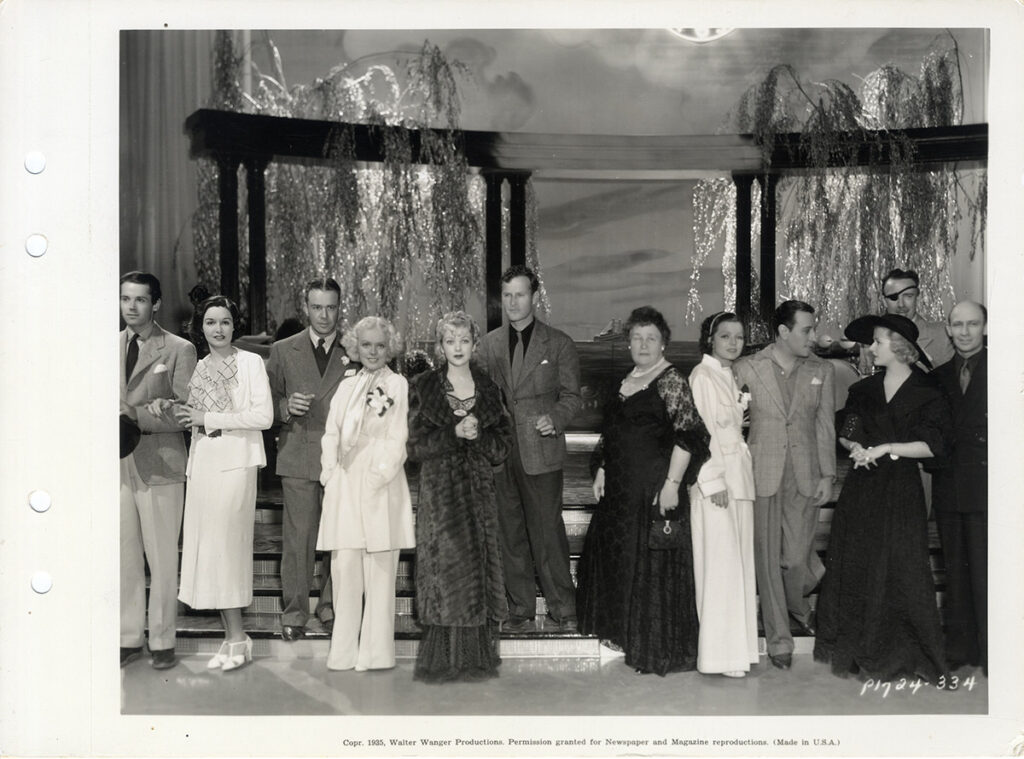 EVERY NIGHT AT EIGHT | WRAP PARTY FT. CLASSIC HOLLYWOOD ELITE (1935) Photo
$

650.00
[Los Angeles: Paramount Pictures, 1935]. Vintage original 8 x 11″ (20 x 28 cm.) black-and-white double weight glossy silver nitrate keybook photo. Minor wear at bottom left edge, keybook holes at left edge, about fine.
Independent film producer Walter Wanger throws a wrap party at the completion of his Paramount-released musical Every Night at Eight, on the film's nightclub set and likely on the last day of principal photography; it is rare to find photos showing such events. His stars Alice Faye, Frances Langford, George Raft and director Raoul Walsh are joined by (left-to-right):
Henry Fonda (who was placed under contract to Wanger in 1935 after Broadway success, and was just finishing his first film

The Farmer Takes a Wife

);

Gail Patrick (Paramount contract player who was appearing in Wanger's

Smart Girl

at the time);

Walter Wanger (producer of the film);

Alice Faye (who was on loan from Fox Pictures to star in Wanger's film. She is still in costume);

Ida Lupino (who was appearing in, and is in costume and makeup for, Wanger's production

Smart Girl

);

William Wellman (well-known director, writer and producer seemingly between projects);

Alison Skipworth (in costume for

The Devil is a Woman

);

Frances Langford (making her feature film debut and debuting her signature song "I'm In the Mood for Love". Her costume matches that of Alice Faye);

George Raft (lead star of the film and Paramount contract player);

Joan Bennett (who would be married to Wanger between 1940-65 and who was appearing in numerous Paramount films in 1935);

Raoul Walsh (director of the film);

Bert Hanlon (though the verso identifies him as Harry Holman — the character actor who appeared in over 20 films in 1935 alone including uncredited in this film — it is incorrect. This is composer, songwriter, actor, author and director Bert Hanlon, who wrote dialogue for this film).
The party took place in late-June 1935 at General Service Studio, Hollywood, CA. Ink stamped by the Hollywood Advertising Council, June 26, 1935.
Share With Friends: