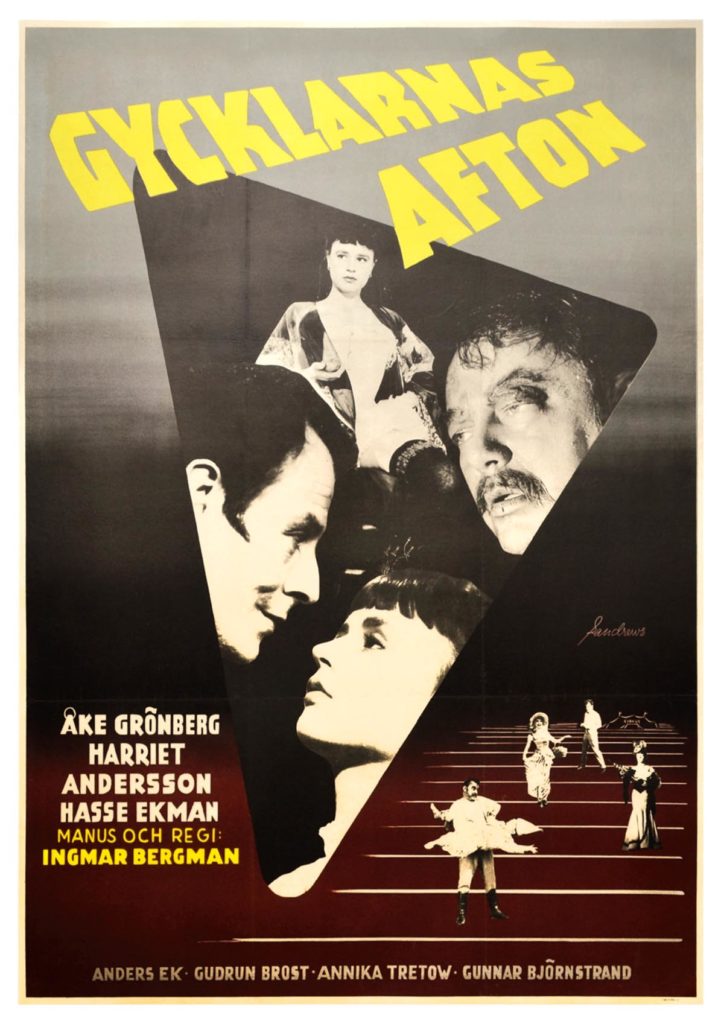 Ingmar Bergman's GYCKLARNAS AFTON [SAWDUST AND TINSEL] (1953) Swedish poster
Sold
Vintage original 27 x 39″ (70 x 100 cm.) poster, Sweden. Harriet Andersson, Hasse Ekman, dir: Ingmar Bergman; Svensk Filmindustri. On linen, there has been normal touch-up to fold lines and to address minor wear to margins, very good.
Originally released in the U.S. under the title The Naked Night, this searing film is about a small traveling circus in rural Sweden in the early twentieth century. Hasse Ekman's anguished performance as the aging owner of the circus clearly channels Emil Jannings' work in various German expressionist silent films, among them Dupont's Variety. Harriet Andersson, in the central role of Ekman's young and rather steely mistress, clearly anticipates the powerful women's' roles which will emerge in later Ingmar Bergman films.
This is arguably Bergman's first great film, and one in which various themes emerge which he will explore in greater depth in subsequent films — alienation, the power struggles between men and women, and also an interest in performers and in the very act of performing.
Out of stock
Share With Friends: