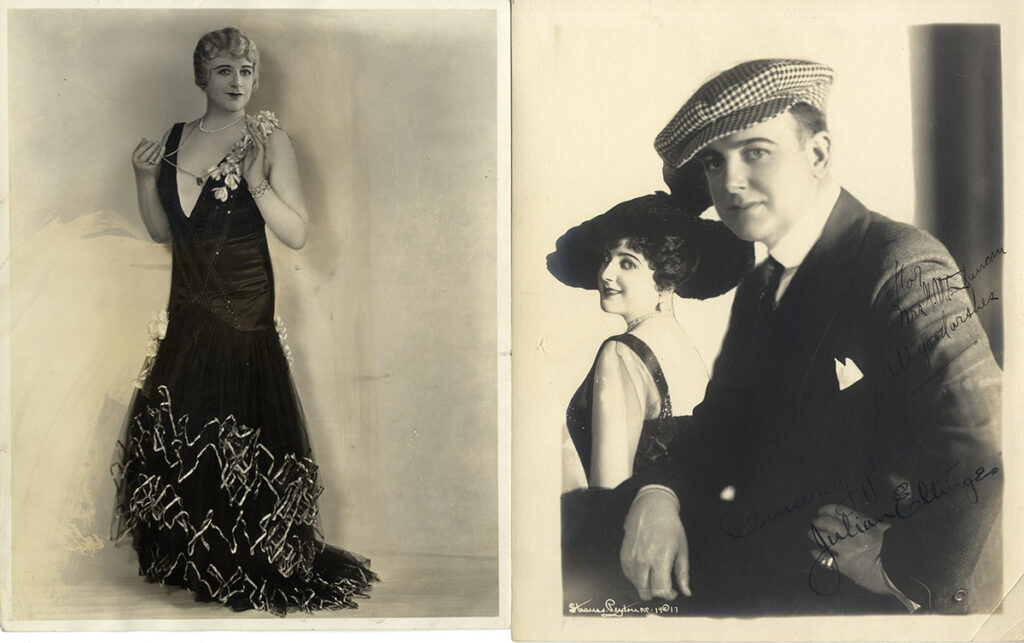 JULIAN ELTINGE (ca. 1915-31) Photo archive
$

1,800.00
[New York, Hollywood: ca. 1915-1931]. Set of seven (7) vintage original black-and-white print still photos. Overall, very good+.
Two (2) photos from

The Clever Mrs. Carfax

(1917): one a borderless 7 3/8 x 8 1/2″ (19 x 22 cm.) still with Eltinge on left, the other an 8 x 9 3/4″ (20 x 25 cm.) photo with Eltinge on the right (this photo with creases and wear at edges, very good).

Doubleweight 10 x 8″ (25 x 20 cm.) portrait, 1917, showing Eltinge in suit-and-tie in foreground and in a dress in background. Elegantly inscribed by Eltinge.

Doubleweight borderless 9 3/8 x 7″ (24 x 18 cm.) portrait of Eltinge in suit-and-tie, by Los Angeles portrait photographer Witzel, ca. 1918.

Doubleweight 10 x 8″ (25 x 20 cm.) portrait, undated. There are a couple of date stamps on verso, one from 1933, but we believe the actual photo to date from Eltinge's Hollywood career, possibly ca. 1918.

Two (2) 6 3/4 x 4 3/4″ (17.5 x 12 cm.) portraits from the film Maid to Order (1931).
Julian Eltinge was the most acclaimed "female impersonator" of his time. He captivated Broadway starting in the mid-1900s, and gave a command performance in London before King Edward VII. He also was a major star in vaudeville. By the mid-1910s Hollywood beckoned, and he made a success in silent film. However, as the Depression set in there was no longer the former interest in his work, and jobs dried up.
"Despite the graceful femininity he exhibited on stage, Eltinge used a supermasculine façade in public to combat the rumours of his homosexuality. This sexual duality led to Chicago Tribune drama critic Percy Hammond's using the term 'ambisextrous' to describe him.
"Eltinge may have been a gay man, as Milton Berle and many others who worked with him believed. Actress Ruth Gordon stated in a New York Times article that he was 'as virile as anybody virile.' There is no existing record of a lover of either sex, though stories did abound." (Wikipedia)
Share With Friends: