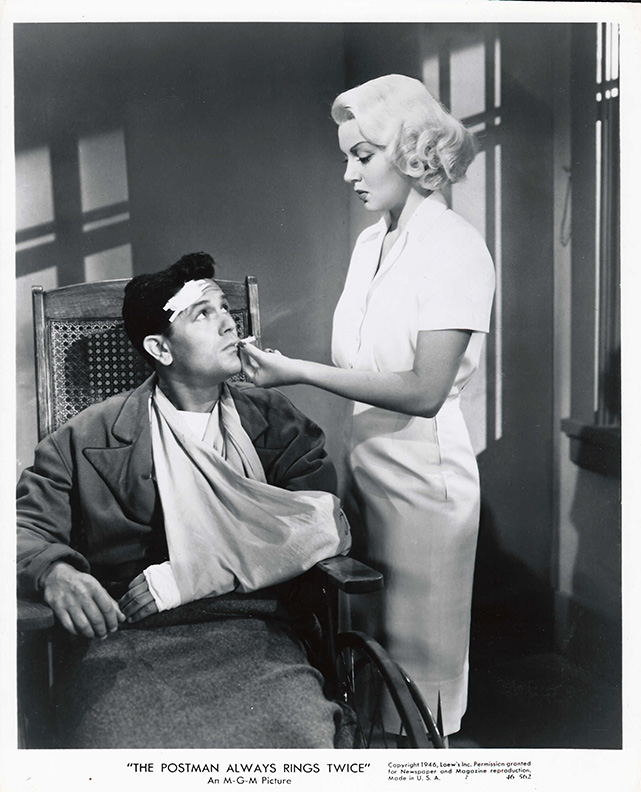 POSTMAN ALWAYS RINGS TWICE, THE (1946) Prison hospital scene
Sold
Vintage original 8 x 10" (20 x 25cm.) black and white single weight glossy silver gelatin photo, USA   Lana Turner, John Garfield, Leon Ames, Cecil Kellaway, Hume Cronyn, dir: Tay Garnett; MGM. Minor crease at top left corner, about fine.
Scene still from the noir drama based on the James M. Cain novel. The story of an unhappily married woman, who, with a drifter,  plans and carries out the murder of her husband, is one of the best remembered, most atmospheric and sexually tense films (even within the restraints of the production code) of this period genre. It took 12 years to bring the notorious James M. Cain novel to the screen because of the code restrictions. So stringent were they that every page of every script draft was scrutinized by the Breen office. Once filmed, every bit of footage and every still photo was submitted for approval.
There were no objections to this posed moment of Lana Turner visiting John Garfield in the hospital.
Out of stock
Share With Friends: