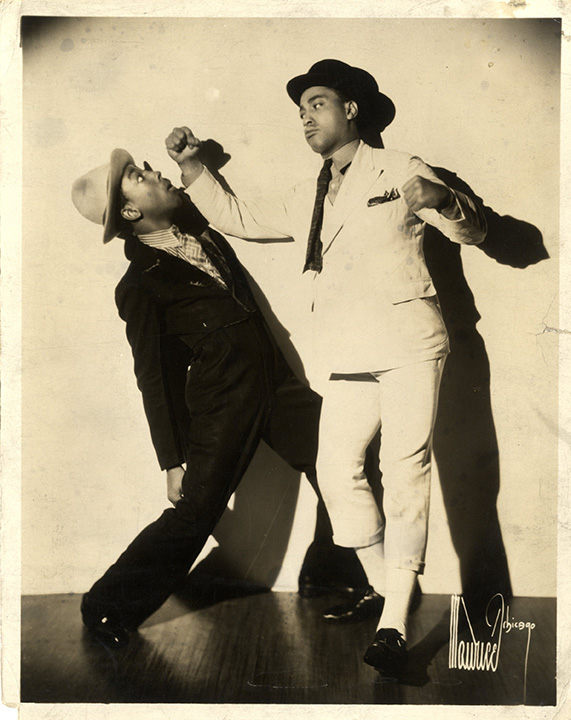 TWO ZEPHYRS, THE (ca. 1940) Photo
$

500.00
Vintage original 10 ¼ x 8" (26 x 20 cm.) double weight photo, USA. There is a 5/8" (1q.4 cm.) tear on middle right margin, going slightly into blank background of image, a marginal chip at extreme left blank bottom, and some soiling and general signs of handling, VERY GOOD.
The earliest photo that we have seen of legendary African American comic Slappy White.
The Two Zephyrs were a black African American comedy duo comprised of Slappy White and Clarence Schelle from the 1940s. They appeared on radio's The Major Bowes Amateur Hour, and TV's "The Morey Amsterdam Show". We don't know what happened to Clarence Schelle, but Slappy White went onto a long successful career! He partnered with Redd Foxx in the Chitlins Circuit of stand up comedy in the 1950s. In 1969, he partnered with Steve Rossi, one of the first integrated comedy duos, but they broke up in the 1970's.. He rebounded strongly, performing stand up in Las Vegas shows, and was a frequent guest on the Dean Martin comedy roasts! He passed away in 1995 at the age of 74.
This photos contains far and away the earliest image of Slappy White we have ever seen, when he was performing in his first successful act, as one half of the Two Zephyrs.
Share With Friends: